Tsai debuts plan to bolster India, ASEAN relations
CHINA: KMT presidential candidate Hung Hsiu-chu said she was in favor of a diversified policy, but she opposes any scheme that ignores neighboring China
Democratic Progressive Party (DPP) presidential candidate Tsai Ing-wen (蔡英文) yesterday announced a "new southward policy" to strengthen relations with Southeast Asian countries and India.
Tsai said ASEAN and India are soon to become major economies in the world and that "it is a natural choice for us to step up overall relations with ASEAN and India" as Taiwan seeks to diversify its trade.
"In the future, we will establish a task force to actively execute the goals of the policy," Tsai said at a cocktail party for foreign envoys in Taiwan celebrating the 29th anniversary of the founding of the DPP.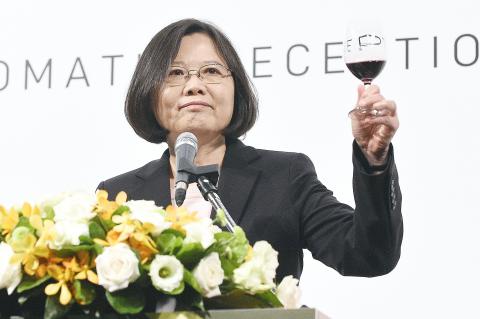 Democratic Progressive Party Chairperson Tsai Ing-wen raises a glass to celebrate the 29th anniversary of the founding of the DPP at a reception for foreign diplomats in Taipei yesterday.
Photo: Chen Chih-chu, Taipei Times
The nation's "go south policy" in the past was designed to encourage Taiwanese enterprises to increase investment in Southeast Asian countries, Tsai said, adding that trade and investment will only be a part of the cooperation under her southward policy.
A diversified and multifaceted partnership is also to be established for civilian exchanges, as well as cultural and educational links, she said.
On the DPP's foreign policy, Tsai said that "among us [the attendees at the party], there might be some countries whose national interests are not quite the same, and whose views on some issues might be different, but I believe all nations are striving for the same goals of peace, stability and prosperity."
"We believe that there is a need to establish a domestic legal mechanism" to let Taiwan take part in the international community's assistance for refugees, she said, adding that the DPP will also make efforts to ease regional conflicts, citing the tension in the South China Sea as an example.
More than 140 diplomatic personnel from 64 countries attended the party, including American Institute in Taiwan Director Kin Moy, Japan's Interchange Association Representative Mikio Numata and Singapore Trade Office in Taipei Representative Wong Wie Kuen (黃偉權).
In response to Tsai's policy announcement, Chinese Nationalist Party (KMT) presidential candidate Hung Hsiu-chu (洪秀柱) said that her staff are also drafting a foreign policy platform and that she is "of course" in favor of a policy that "does not put all of our eggs in one basket," nor will she ignore nascent economic opportunities in ASEAN member states.
However, she added that she opposes any "single-minded" move to the south that "abandons the giant Chinese market to the west."
Additional reporting by Chen Yu-hsuan
Comments will be moderated. Keep comments relevant to the article. Remarks containing abusive and obscene language, personal attacks of any kind or promotion will be removed and the user banned. Final decision will be at the discretion of the Taipei Times.