Governing more important than presidency: Tsai
How the Democratic Progressive Party (DPP) would govern if it wins the presidential election in January — not just winning the election — is what is truly important for the party, DPP Chairperson Tsai Ing-wen (蔡英文) yesterday told its national congress.
More than 500 representatives attended the event in Taoyuan, including former vice president Annette Lu (呂秀蓮) and former party chairmen Su Tseng-chang (蘇貞昌), Frank Hsieh (謝長廷), Yu Shyi-kun and Yao Chia-wen (姚嘉文).
Kaohsiung Mayor Chen Chu (陳菊) and 11 of the party's other mayors and county commissioners also attended.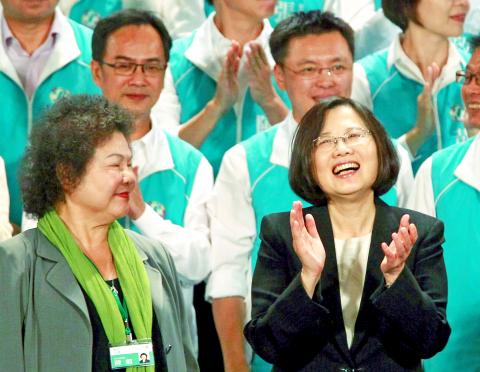 Democratic Progressive Party (DPP) Chairperson Tsai Ing-wen, right front, yesterday laughs after giving a speech at the party's national congress in Taoyuan, as Kaohsiung Mayor Chen Chu, with green scarf, looks on.
Photo: Pichi Chuang, Reuters
However, Tainan Mayor William Lai (賴清德), whose municipality is battling a major outbreak of dengue fever, did not attend.
Long-time Taiwanese independence activist and historian Su Beng (史明), 96, attended and had a seat next to Tsai.
The deputy representative of Russia's trade office and diplomats or representatives from 11 other countries observed the proceedings.
In her speech, Tsai said that winning the January presidential poll was crucial to play an important role for the nation and that the party would need to fulfill every single reform promised made to the public.
Life for ordinary people has been hard over the past several years, and if the DPP were given the chance to govern, it would be responsible for ushering in better times, no matter how much effort was required, she said.
In his speech, Su said that the DPP could not afford to take the presidential race lightly, but he said he was confident that the DPP could win a majority in legislative elections, including a complete sweep of the nation's south.
Tsai has been campaigning "pretty hard" for the presidency he said, praising her efforts to win votes in Hakka areas where the party has struggled to win votes in the past.
Tsai was practicing speaking Hakka and visiting Hakka areas, he said, and had also proposed a number of policies aimed at winning support from Hakka voters.
Holding yesterday's convention in Taoyuan's Pingzhen District (平鎮) showed that the party was sincere about working hard to win Hakka support, he said.
Last night the DPP celebrated its 29th anniversary one week in advance with a gala show at Jhongjheng Park in Taoyuan's Jhongli District (中壢) that included performances by the Paper Windmill Theatre (紙風車劇團) and several bands.
The DPP was founded on Sept. 28, 1986. It moved its celebrations up so that they would not conflict with the three-day long weekend for the Mid-Autum Festival.
Additional reporting by staff writer
Comments will be moderated. Keep comments relevant to the article. Remarks containing abusive and obscene language, personal attacks of any kind or promotion will be removed and the user banned. Final decision will be at the discretion of the Taipei Times.