DPP publicizes finances, Tsai promises transparency
Democratic Progressive Party (DPP) presidential candidate Tsai Ing-wen's (蔡英文) campaign office yesterday publicized its campaign finances, vowing to keep all sources of its contributions transparent and reject big corporate donors.
Tsai's campaign chief executive officer Lin Hsi-yao (林錫耀) told a news conference in Taipei that the campaign does not accept contributions from conglomerates' donors, adding that Tsai's campaign has so far received NT$75 million (US$2.3 million) in donations, of which NT$48 million came from small contributions.
Lin said that the office has recorded and made available all contributions prior to last month to keep Tsai's promise of transparency, and that the 18 local campaign offices nationwide would regularly update information about donations.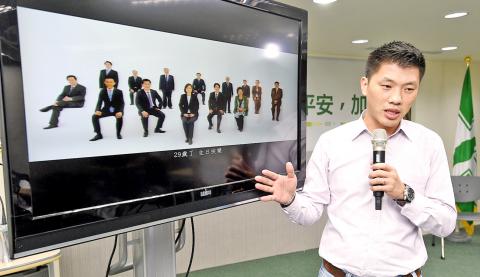 Democratic Progressive Party (DPP) spokesman Wang Ming-sheng unveils a new video to celebrate the 29th anniversary of the founding of the DPP at a news conference held at the party's headquarters in Taipei yesterday.
Photo: George Tsorng, Taipei Times
Lin said Tsai's last presidential campaign in 2012 would have had to "hang up its cooking pots" if not for the piggy-bank initiative, which he said raised NT$ 200 million — referring to piggy banks the campaign doled out to individual supporters to collect contributions.
Tsai intends to spend less in the election campaign than four years ago, Lin said, adding that the current war chest is about one-10th the total size of Tsai's 2012 campaign, and that the office plans to rely predominantly on small donors for fund-raising.
When asked how the office defines "conglomerates," Lin said the decision would be "made in accordance with public perception," adding that he was "not at liberty" to name names as examples of what are considered to be "conglomerates."
A detailed ledger of Tsai's campaign finances would be turned over to the Control Yuan after the election, which the public may access, Lin said.
Comments will be moderated. Keep comments relevant to the article. Remarks containing abusive and obscene language, personal attacks of any kind or promotion will be removed and the user banned. Final decision will be at the discretion of the Taipei Times.