Lawyers seek state violence payments
INJURED PROTESTERS: Attorneys said they are seeking restitution of about NT$10.06 million from the Taipei City Government on behalf of 30 alleged victims of violence
Attorneys volunteering to represent people who participated in the Sunflower movement protests last year against the government's handling of the cross-strait service trade agreement yesterday submitted a petition to the Taipei City Government asking for state compensation on behalf of 30 alleged victims of state violence.
Taipei Deputy Commissioner of Legal Affairs Lin Shu-hua (林淑華) accepted the petition on behalf of the city government.
Last month, Lin Ming-hui (林明慧) won a lawsuit accusing the state of violence after he sustained a head injury after being apprehended by police officers in a protest in front of the Executive Yuan on March 24 last year.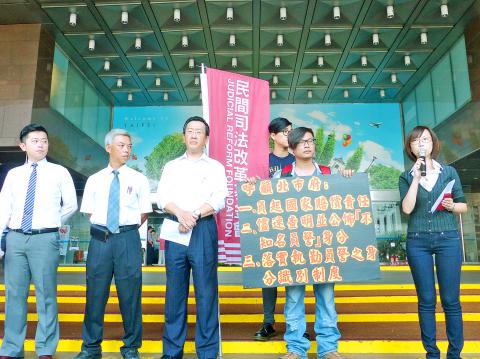 Lawyers stand in front of a Judicial Reform Foundation banner and seek state compensation on behalf of 30 alleged victims of state violence at Taipei City Hall yesterday.
Photo: Hsiao Ting-fang, Taipei Times
Lin Ming-hui had filed an administrative lawsuit against the Executive Yuan, the Taipei City Government, the National Police Agency and the Taipei Police Department for violating the Act Governing the Use of Police Weapons (警械使用條例).
The Taipei District Court ruled that the Taipei City Government had to compensate Lin Min-hui NT$300,000 (US$9,150) for the head injury, which the city chose not to appeal.
Citing the case, the attorneys said they are seeking restitution of approximately NT$10.06 million on behalf of 30 alleged victims of violence.
Lawyer Wellington Koo (顧立雄) said that the police officer who attacked Lin Ming-hui has yet to be identified, meaning that nobody could be held accountable.
After a similar situation at a protest against the Ministry of Education's adjustments to the high-school curriculum guidelines on July 23, in which the police officer who attacked protesters was not identified, Koo said the city government should establish standard procedures regulating how the police enforce laws at protests in which police officers must properly identify themselves when enforcing the law.
Chen Yu-fan (陳雨凡), a lawyer with the Judicial Reform Foundation, said the lawyers representing the victims are discussing if they should continue to attempt to hold the Executive Yuan and the National Police Agency legally accountable for the violent acts committed against protesters during demonstrations.
Comments will be moderated. Keep comments relevant to the article. Remarks containing abusive and obscene language, personal attacks of any kind or promotion will be removed and the user banned. Final decision will be at the discretion of the Taipei Times.