Ko's presence in high demand on campaign trails
With campaigns for next year's legislative elections in full swing, many "third force" candidates have asked Taipei Mayor Ko Wen-je (柯文哲) to make an appearance at their campaign events.
Despite having announced that he would neither be recorded nor filmed, and would not endorse any legislative candidates in the run-up to the elections, Ko, an independent, has carried out other forms of collaboration with candidates nominated by small parties.
Ko last night attended a campaign event for New Power Party (NPP) legislative candidate Freddy Lim (林昶佐), during which he sang two classic Taiwanese songs.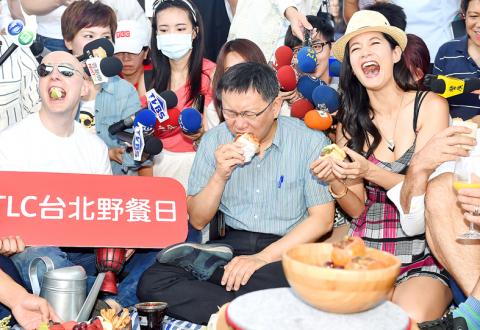 Taipei Mayor Ko Wen-je, center, is joined by Discovery Networks Asia Pacific president and managing director Arthur Batings, left, and TLC host Janet Hsieh, right, at TLC's Taipei Picnic Day event yesterday.
Photo: Chien Jung-fong, Taipei Times
Ko late last month met with Social Democratic Party (SDP) legislative candidates and NPP legislative candidate Hung Tzu-yung (洪慈庸), and is to attend a forum organized by SDP candidate Fan Yun (范雲) this afternoon, during which the two are to discuss politics from a historical perspective.
In other news, Ko on Friday said he is against the the Fourth Nuclear Power Plant in New Taipei City's Gongliao District (貢寮) because the nation's geology makes it unfit for developing nuclear energy.
Ko made the remark during a speech at a "pastoral city" event to screen documentaries promoting agriculture and sustainable development.
He said that to live in a pastoral city is not just a lifestyle choice, but also one of value, adding that he pictures Taipei not as a "concrete jungle," but as a place that is livable for people, which often prompts him to think: "How would you like Taipei to be for future generations?"
"This is not just a slogan. If you constantly ask yourself this question, it will influence your policymaking. If a person thinks in terms of 10 or 20 years, his logic is very different from that of a person who thinks in terms of 100 years," he said.
Using nuclear energy as an example, he said that he is against the Fourth Nuclear Power Plant becoming operational.
"I am not saying that it is wrong to use nuclear energy, but Taiwan lacks a proper environment for nuclear energy development," he said.
Comparing the situations in the US and Taiwan, he said that, while in Minnesota, he learned that nuclear power plants there are kept outside a safe range of 200km from the largest city in the state, Minneapolis.
Comments will be moderated. Keep comments relevant to the article. Remarks containing abusive and obscene language, personal attacks of any kind or promotion will be removed and the user banned. Final decision will be at the discretion of the Taipei Times.