Hung dismisses 'immediate unification'
DENGUE FEVER: The KMT candidate also criticized Tainan Mayor William Lai over the outbreak of the disease, saying that people are doubting the DPP's ability to govern
Chinese Nationalist Party (KMT) presidential candidate Hung Hsiu-chu (洪秀柱) yesterday denied she was seeking "immediate unification" with China.
Hung made the remarks during a campaign activity in Tainan.
Hung said that many people have said she is seeking immediate unification because they "are not willing to listen to others rationally."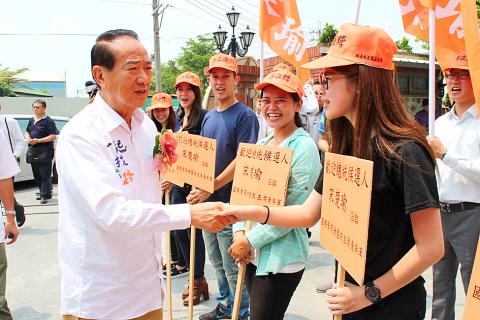 People First Party presidential candidate James Soong, left, shakes hands with supporters at a campaign event in Tainan yesterday.
Photo: Lin Meng-ting, Taipei Times
"Taiwan cannot be unified [with China] by someone else. If there is unification, it has to be [initiated by the Republic of China (ROC)]," she said.
Hung also rebuffed a rumor about her being replaced as the KMT's presidential candidate.
"You get executed if you run away from the battlefield. It is not possible for me to become a KMT deserter," she said.
Hung also visited Tainan's Chenggong Borough (成功), a military dependents' village, to pay respects to what is said to be the only bust of former president Chiang Kai-shek (蔣介石) remaining in the city.
Chenggong Borough, better known as juan cun (眷村), is a residential compound that was set up to house soldiers and family members brought to Taiwan with Chiang's Nationalist army in 1949.
In the community sits a "military dependents' village cultural museum," in front of which stands a Chang Kai-shek bust, which is the last Chiang statue remaining in the city, according to Chenggong Borough Warden Chin Kuan-hung (金冠宏).
Hung bowed and presented a bouquet of flowers to the bust.
In her speech, she praised the effort veterans put into safeguarding and developing Taiwan.
"People should remember history so they can truly cherish what they have now," she said, touting the preservation of the military dependents' village.
As the number of dengue fever cases continues to rise in Tainan, Hung called on central and local governments to work together to put an end to the outbreak.
She castigated Tainan Mayor William Lai (賴清德) of the Democratic Progressive Party (DPP) for the outbreak and said the seriousness of the epidemic has led to people starting to question the DPP's ability to govern.
Separately yesterday, People First Party presidential candidate James Soong (宋楚瑜) was also in Tainan calling for central-local cooperation to halt the spread of the disease.
"The dengue fever outbreak has been going on for quite a while and the central government has just recently intervened for coordination. The relationship between the central government and municipalities should not be one of schadenfreude, but one of partnership and mutual support," Soong said.
Comments will be moderated. Keep comments relevant to the article. Remarks containing abusive and obscene language, personal attacks of any kind or promotion will be removed and the user banned. Final decision will be at the discretion of the Taipei Times.