Lien's China trip illegal: Annette Lu
'CLAPPING' THE ENEMY: Lu said that Lien's attendance of Beijing's military parade was 'ridiculous' and that his 2005 trip to China had diminished Taiwan's national identity
Former vice president Lien Chan (連戰), of the Chinese Nationalist Party (KMT), should be prosecuted according to the Criminal Code for colluding with an enemy state, former vice president Annette Lu (呂秀蓮) of the Democratic Progressive Party (DPP) said yesterday.
The controversy sparked by Lien's attendance of a military parade in Beijing last week has not dissipated following his return to Taiwan.
Lu made the remarks at a public hearing held by DPP caucus whip Ker Chien-ming (柯建銘), DPP Legislator Yu Mei-nu (尤美女) and Taiwan Solidarity Union (TSU) caucus whip Lai Chen-chang (賴振昌), at which they outlined their allegations against Lien.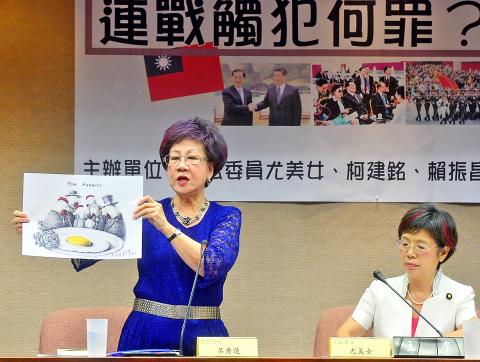 Former vice president Annette Lu, left, yesterday holds up a newspaper cartoon about former vice president Lien Chan's visit to Beijing during a public hearing at the Legislative Yuan.
Photo: Wang Yi-sung, Taipei Times
Because China's intention to use military force to attack Taiwan remains unchanged, Lien's attendance of the military parade was as "ridiculous" as "a murderer displaying his weapons and you [Lien] clapping for him," Lu said.
Lien's actions should make him liable for prosecution under the Criminal Code for colluding with an enemy state to initiate war against the Republic of China or colluding to subject territory of the Republic of China to another state, she said, adding she presented the case against Lien to the High Prosecutors' Office earlier this week.
Lu also criticized a 2005 trip by then-KMT chairman Lien to China to meet with then-Chinese president Hu Jin tao (胡錦濤), during which he signed a memorandum of understanding with Beijing.
Liu said that the trip had diminished Taiwan's identity and confused the distinction between China and Taiwan.
As a result, Taiwanese courts do not consider China an "enemy country" when dealing with Chinese spies, preventing the Criminal Code from being applied and leading to them being given relatively light sentences under the National Security Act (國家安全法), she said.
Because court decisions have effectively "frozen" Criminal Code provisions concerning collusion with the enemy, the Legislative Yuan should amend the law with provisions that explicitly apply to China, she said.
Yu said that Lien had taken advantage of Taiwan's democracy and freedom to go to an undemocratic and non-free country for the purpose of making Taiwan non-free and undemocratic.
Lien bore political responsibility for his choice and probably also had a legal responsibility, she said, calling for further investigation.
Chinese Culture University law professor Hsu Hui-feng (許惠峰) said that Lien's attendance of the military parade implied he concurred with the idea that China should govern Taiwan.
"The Republic of China Constitution is not a protective talisman," he said, adding that judicial authorities should move away from mechanical legal interpretations of the law to better protect national security.
Comments will be moderated. Keep comments relevant to the article. Remarks containing abusive and obscene language, personal attacks of any kind or promotion will be removed and the user banned. Final decision will be at the discretion of the Taipei Times.