HTC has co-opted unions: protesters
Smartphone maker HTC Corp has co-opted the company's unions, campaigners from the Taoyuan Confederation of Trade Unions said yesterday, accusing the unions of failing to protect workers' rights in the face of company layoffs.
"The Taoyuan Department of Labor has no idea whether [the unions] are operating normally because they have not received any notification of board meetings, much less meeting agendas or minutes," Taoyuan Confederation of Trade Unions chairman Chuang Fu-kai (莊福凱) said.
The Labor Union Act (工會法) requires unions to file meeting records and financial reports with their local labor department, he said.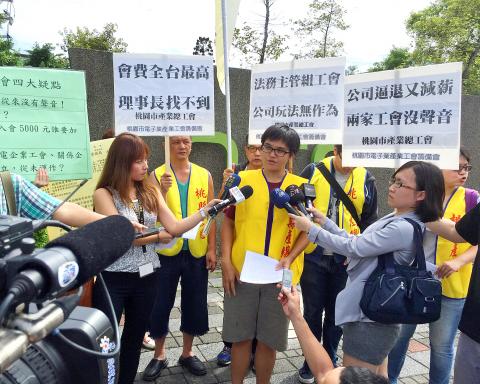 Representatives from several labor groups yesterday protest outside HTC's Taoyuan factory after the company announced some layoffs.
Photo: CNA
Activists yesterday protested outside of HTC's Taoyuan factory against the company's decision to lay off 15 percent of its Taiwanese workforce, saying that the company had been profitable almost every year since 2005 and made NT$1.4 billion (US$42.73 million) in profits last year.
HTC had pressured workers to "voluntarily" resign to avoid paying severance pay, while requiring workers receiving severance pay to sign non-disclosure agreements, Chuang said, adding that when 30 workers sought union support to protect their rights, they were unable to get in touch with union representatives.
The unions also failed to initiate talks with management about the layoffs, as mandated by the Act for Worker Protection of Mass Redundancy (大量解僱勞工保護法), he said.
The chairman of one of the unions' boards works as a lawyer for HTC, while the union membership fee of NT$5,000 is double that normally charged, Chuang said.
Because of the unions that currently exist, any new union organized by factory workers would not be eligible for official recognition, he said, adding that HTC must drop its "grip" on company unions.
Activists demanded a public explanation from the company unions about their response to the layoffs, and urged the unions to initiate talks with HTC management.
Comments will be moderated. Keep comments relevant to the article. Remarks containing abusive and obscene language, personal attacks of any kind or promotion will be removed and the user banned. Final decision will be at the discretion of the Taipei Times.