Lien's China trip may help cross-strait ties: Hung
'A GOOD THING': Hung dismissed concern over Lien joining China's military celebrations, saying he has contributed a lot to the cause of cross-strait peace
Former vice president Lien Chan's (連戰) decision to attend Chinese celebrations next month marking the 70th anniversary of the end of the Second Sino-Japanese War, including a military parade, is a "good thing if it helps peaceful exchanges across the Taiwan Strait," Chinese Nationalist Party (KMT) presidential candidate Hung Hsiu-chu (洪秀柱) said yesterday.
Lien's decision has sparked controversy, with the Mainland Affairs Council and the Presidential Office expressing their disapproval, but saying they cannot stop him because he is going as a private individual.
Asked about the issue, Hung said that Lien made history by "embarking on an ice-breaking journey to China [in 2005]. laying the groundwork for peaceful interactions between the two sides of the Taiwan Strait."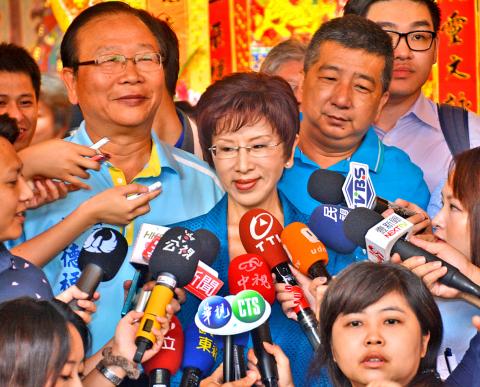 Chinese Nationalist Party (KMT) presidential candidate Hung Hsiu-chu speaks to reporters yesterday, while attending a religious ceremony at Yonghe District's Baofu Temple in New Taipei City.
Photo: CNA
"As long as [the trip] is good for cross-strait interaction, it is a good thing. I believe the former [KMT] chairman knows what he is doing," she said.
Asked whether she thinks Lien's China visit would hurt her election prospects, Hung said that Lien is a political veteran who has made many contributions to cross-strait communication and that she is not worried that his attendance would have a negative impact on her campaign.
KMT caucus whip Lai Shyh-bao (賴士葆) echoed the Presidential Office's stance that despite the controversy, if Lien "can present the history of the Republic of China's [ROC] war of resistance against Japan there and let [Chinese] know about the ROC's contribution, it would be a positive."
Lai said he believes Lien's China trip would be helpful to the cross-strait relations and should not be viewed with a bias.
Comments will be moderated. Keep comments relevant to the article. Remarks containing abusive and obscene language, personal attacks of any kind or promotion will be removed and the user banned. Final decision will be at the discretion of the Taipei Times.