Rights group upset over 'turtle abuse'
An animal rescue group on Sunday condemned the alleged actions of a group of young people after pictures were posted online apparently showing a turtle being stepped on.
Animal Rescue Team Taiwan spokesperson Ni Ching-tai (倪京台) said the organization received calls from concerned members of the public on Sunday about photographs posted on social media that showed animal abuse.
In a series of Instagram photographs and text posts titled: "We have finally conquered the warrior turtle," what appeared to be high-school-age students were shown mistreating a turtle caught in a pond near the Ching-Chiang Municipal Public Library in Taipei's Beitou District (北投), Ni said.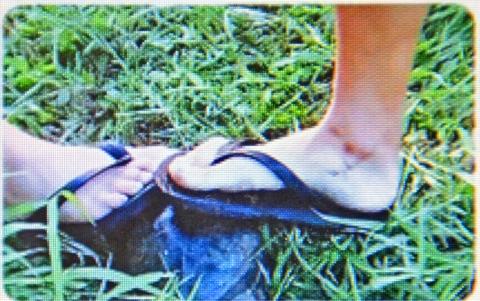 High-school-age students apparently tread on a turtle in Taipei's Beitou District in a cropped screen grab from Instagram.
Photo courtesy of Animal Rescue Team Taiwan
The animal rescue group moved quickly to identify the school the adolescent perpetrators attended by using other photos linked to the Instagram account, Ni said.
Ni said his group decided against reporting the incident to the Taipei City Government Animal Protection Office for now given the age of the people involved, but it has expressed its concerns to the school so that the students can receive remedial education over their behavior.
Ni said that wild turtles avoid humans, but are generally too slow to escape capture.
The students caused the turtle duress and pain, and stepping on a turtle's shell could inflict fatal injuries, Ni said.
Ni said the students reportedly took the turtle to school to show off.
Fuxing Senior High School principal Chung Ya-fang (鄭雅芳) later confirmed that the school received a call from the animal rescue group about the incident, adding that she has ordered every member of the school's senior staff to investigate.
Teachers identified the students from the Instagram photos, Chung said, adding that those involved were required to report to the school over the weekend.
Six students identified through the photographs were second-year students who had visited the pond after class on Friday last week, Chung said, adding that three of the students bore the primary responsibility for the incident.
The students expressed remorse and apologized for their inappropriate and offensive behavior, Chung said.
The school's judicial committee will decide an appropriate punishment for the students within 14 days, which might include counseling and community service, Chung said, adding that the students already said that they would accept whatever reprimand the committee imposes and that their parents had been informed.
Chung said the school will work to emphasize the value of all life to its students in classes.
Additional reporting by Yu Pei-ju
Comments will be moderated. Keep comments relevant to the article. Remarks containing abusive and obscene language, personal attacks of any kind or promotion will be removed and the user banned. Final decision will be at the discretion of the Taipei Times.