Cross-strait meeting under way in Fuzhou, China
Straits Exchange Foundation (SEF) Chairman Lin Join-sane (林中森) yesterday arrived in Fuzhou, China, for the latest round of high-level meetings with his Chinese counterpart, Association for Relations Across the Taiwan Straits Chairman Chen Deming (陳德銘).
Lin and his delegation were greeted by Chen at the hotel at which they are staying.
The formal talks began later yesterday.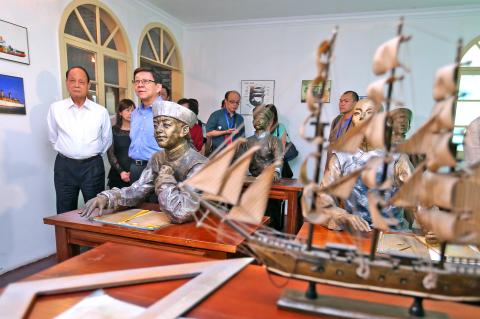 Straits Exchange Foundation Chairman Lin Join-sane, left, accompanied by China's Association for Relations Across the Taiwan Straits Chairman Chen Deming, second left, visits the Chinese Shipyard Culture Museum yesterday after Lin arrived in Fuzhou, China, for the latest round of high-level cross-strait meetings.
Photo: CNA
The main items on the agenda of the talks are framework agreements on the avoidance of double taxation and aviation safety, which are expected to be signed this afternoon.
When greeting Lin, Chen said the two sides would also discuss allowing Chinese air passengers the right to transit through Taiwan and making cross-strait transport links more convenient.
Lin said trade and economic interactions have grown more intense as the number of cross-strait flights have increased, making the agreements particularly important to people on both sides of the Taiwan Strait.
Before leaving Taiwan yesterday, Lin said that eliminating double taxation would help Taiwanese businesses and people in China from having the same income taxed twice, as well as encourage Chinese investment in Taiwan.
The aviation safety agreement would help improve flight safety and punctuality, an urgent issue, as the number of flights between Taiwan and China is set to increase to 890 per week from Oct. 1, Lin said.
The two agreements would bring the total number of agreements signed by Taiwan and China since 2008 — when the cross-strait impasse began to thaw — to 23.
As for a much-anticipated agreement that would allow Chinese travelers on international flights to transit through Taiwan, Lin said he hoped that it could be signed by the end of the year.
Taiwan had hoped that the agreement would be signed at the current meeting, but it was postponed because the two sides could not bridge their differences in time.
Lin said the proposed deal would not only benefit Taiwan but also China, because it would offer Chinese travelers a new transit option and help ease the pressure on Chinese airports due to increasing transit demand.
Comments will be moderated. Keep comments relevant to the article. Remarks containing abusive and obscene language, personal attacks of any kind or promotion will be removed and the user banned. Final decision will be at the discretion of the Taipei Times.