Public welcome to see choppers: MND
APACHE ATTRACTION: The defense ministry said group tours can be organized, after a public petition to be allowed to see the helicopters like a local celebrity did
The Ministry of National Defense (MND) yesterday said it would allow people to visit and see Apache helicopters at the nation's military bases during open house days or through group applications after a Facebook petition by 270,000 netizens.
"The ministry has always allowed public visits to our military bases on open house days, and during these visits, we also showcase our weaponry," ministry spokesman Major General David Lo (羅紹和) told a news conference yesterday afternoon.
"There will be a few camp visit events later this year, and we plan to showcase the Apache helicopters to those who might be interested," he added.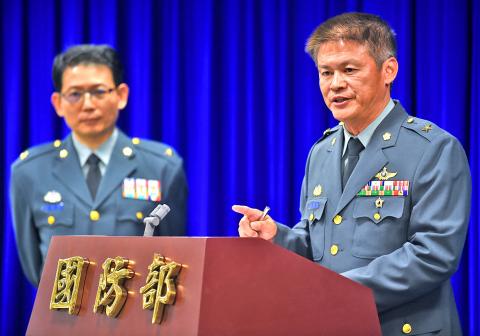 Ministry of National Defense spokesman David Lo, left, looks on as Major General Huang Kuo-ming speaks during a press conference at the ministry in Taipei yesterday.
Photo: Chien Jung-fong, Taipei Times
As for people who cannot make it on camp visit days, the ministry would allow visits organized by institutions and groups if they file applications for approval, he said.
However, the military bases would not accommodate individual requests, he said.
"If you are a commander of a military base, would you take individual visitors? Could you handle it if one visitor appears all of a sudden at 9am asking to visit, while another comes at 10am, or when one visitor arrives each minute?" Lo asked.
"If that is the case, it would be impossible to train the troops," he said.
Lo was responding to reporters' questions about a Facebook petition to visit the Apache helicopters, with more than 270,000 people signing up.
The petition follows Taoyuan prosecutors' decision last week not to press charges against 15 military officers and civilians, including celebrity Janet Lee (李蒨蓉), who were given an unauthorized tour of a military base in Longtan District (龍潭), Taoyuan, by 601st Air Cavalry Brigade Lieutenant Colonel Lao Nai-cheng (勞乃成).
Prosecutors quoted the ministry as saying that the base is not designated as a fortress and therefore is not a restricted area as stipulated in the Vital Area Regulations (要塞堡壘地帶法).
The Democratic Progressive Party (DPP) earlier yesterday called on the ministry to respond to the online petition, while panning the ministry over its "double standards" in defining "restricted areas."
"It is unacceptable for the public that army corporal Hung Chung-chiu (洪仲丘), an ordinary citizen performing compulsory military service, received severe punishment leading to his death for carrying a cellphone into [a military] camp," DPP spokesperson Huang Di-ying (黃帝穎) told a separate press conference.
"However, after high-ranking military officers gave tours on a military base and even allowed guests into the cockpit of an Apache helicopter, the ministry made an all-out effort to help them and even thanked the Taoyuan District Prosecutors' Office for not indicting them," he said.
"The difference in treatment between an ordinary citizen and a high-ranking officer by the ministry is intolerable and seriously harms the image of the military, Huang said.
He said the ministry should explain its definition of a "fortress" and "restricted areas."
Comments will be moderated. Keep comments relevant to the article. Remarks containing abusive and obscene language, personal attacks of any kind or promotion will be removed and the user banned. Final decision will be at the discretion of the Taipei Times.