Ko comes under fire from pro-independence groups
Taipei Mayor Ko Wen-je (柯文哲) yesterday came under fire from pro-independence groups for a remark he made in Shanghai earlier this week that Taiwan and China belonged to "one family."
Members of the 908 Taiwan Republic Campaign yesterday protested in front of the Taipei City Government building, demanding an apology from Ko for what they called his "inappropriate" remark.
Group founder Peter Wang (王獻極) said that Taiwan and China are two nations and enemies with each other.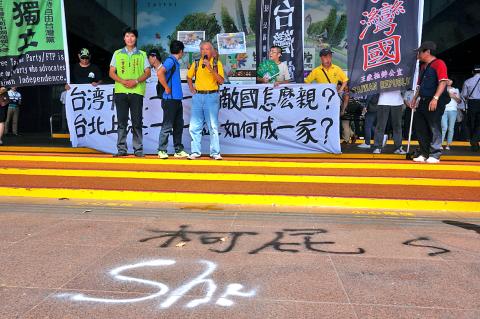 908 Taiwan Republic Campaign founder Peter Wang voices the group's dissatisfaction with Taipei Mayor Ko Wen-je's cross-strait statements in front of Taipei City Hall yesterday.
Photo: Tu Chu-min, Taipei Times
"Under this circumstance, how can we be in 'one family'?" he asked.
He said Ko had "kissed up" to Beijing and that he had won last year's mayoral election by "swindling" Taipei voters, citing a pre-election press conference held by a group at which Ko tore up his Republic of China (ROC) identification card and received a symbolic "Taiwan Republic" identification card.
He said that Ko's stance on cross-strait issues is even worse than the "one China, different interpretations" stance adopted by President Ma Ying-jeou (馬英九).
Group director Chilly Chen (陳峻涵) said that if Taiwan and China were to be one family, China should first withdraw all of its missiles targeting Taiwan and acknowledge Taiwan as a nation.
Ko rejected the allegations that he had swindled his way to his post as Taipei mayor and changed his position on Taiwan's identity.
Asked to comment on the criticism during a meeting to discuss city policies, Ko said: "I did not swindle votes. If that [ripping his ROC identity card] was swindling, people's votes, I was doing it from day one. There was no sudden change in direction," he said.
With reference to his trip to Shanghai earlier this week, he said: "I told officials at the [People's Republic of China's] Taiwan Affairs Office that it was China that decided to abandon us [Taiwan] in 1895, and now it expects us to go back. I told them: 'You need to think about how others feel sometimes,'" he said.
On why he had not informed reporters that he had been scheduled to meet with Taiwan Affairs Office Liaison Bureau Director Liu Junchuan (劉軍川) on Tuesday, he said that Chinese officials arranged the meeting only after assessing his behavior during the first day of his visit.
Comments will be moderated. Keep comments relevant to the article. Remarks containing abusive and obscene language, personal attacks of any kind or promotion will be removed and the user banned. Final decision will be at the discretion of the Taipei Times.