Key curriculum meeting minutes to be made public
Department of Education Commissioner Tang Chih-min (湯志民) yesterday said he would make public minutes taken during a breakout session to review high-school curriculum guideline revisions if the Ministry of Education so desires, and that he, in his capacity as chairman, has expressed his willingness to make public a roster of curriculum review members who attended the session in response to a ministry survey.
Tang made the remarks following a meeting between the city government and student protesters who broke into the ministry compound on July 23 in protest of the procedure the ministry adopted in introducing the guideline revisions.
"Since it [the ministry] has asked my opinion on the information they are considering disclosing, which includes the roster, I wonder if they would ask me whether I would be willing to publicize the session minutes next. If they do, I will say: 'Yes,'" he said.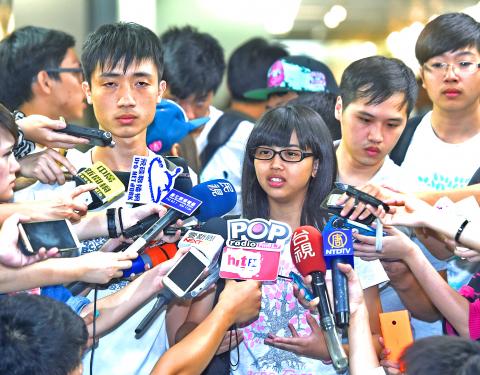 Student representatives talk to the media in Taipei yesterday after a meeting with the Taipei City Government to discuss recent curriculum adjustment protests.
Photo: Fang Pin-chao, Taipei Times
The session was held on Jan. 25 last year, and is believed to hold key information regarding changes made to the guidelines.
Students who attended the meeting lauded Tang's commitments, calling them the "biggest gain" they made during the meeting.
The meeting marked the second in a series of three, called to assist the city government's investigation into the July 23 protest, with the final meeting to be attended by city officials and police officers tasked with evicting and arresting protesters last month at the ministry compound.
At the request of city officials, students detailed what they said were acts of "brutality" by police officers at the Zhongzheng First Precinct, in particular by precinct chief Chang Chi-wen (張奇文).
A student accused Chang of allowing police officers to physically assault protesters on the night of the protest, during which he said he suffered a cerebral concussion, while others accused the police of infringing on their freedom of correspondence.
"I was told to turn in my cellphone twice by a police officer, which means someone must have given a clear order to confiscate protesters' cellphones. I believe that 'someone' is Chang Chi-wen," he said, adding: "Police officers snapped every time they saw a protestor using a cellphone."
"I was standing behind [Minister of Education] Wu Se-hw's (吳思華) desk when the police entered. One police officer immediately charged at me and knocked my cellphone out of my hand, yelling: 'What are you taping? You are a red-handed offender,'" another student said.
The students also took issue with the "brutal" way officers arrested protesters, in which some protesters were allegedly confronted by three or four officers, who pinned them down, turned them around and cuffed them with force.
Toward the end of the meeting, Taipei Mayor Ko Wen-je (柯文哲) made an unexpected appearance.
Asked if he would fire Chang, Ko said that several precinct chiefs had left since he assumed office, and that the matter would be discussed after the investigation report is released.
"We will do whatever needs to be done and assign any necessary punishments," Ko said.
Comments will be moderated. Keep comments relevant to the article. Remarks containing abusive and obscene language, personal attacks of any kind or promotion will be removed and the user banned. Final decision will be at the discretion of the Taipei Times.