Some KMT lawmakers fret over Soong
SINGING THE BLUES: Fears of a repeat of the 2000 presidential election have made some legislators nervous, but Hung Hsiu-chu said she would remain the KMT candidate
Several Chinese Nationalist Party (KMT) legislators have raised concerns over People First Party (PFP) Chairman James Soong's (宋楚瑜) entry into January's presidential election, fearing that it could hurt the KMT's presidential campaign and prompt more party members to jump ship.
"Soong's candidacy could deal a direct blow to the KMT because a divided pan-blue camp would give the Democratic Progressive Party an edge in the election," KMT Legislator Lu Chia-chen (盧嘉辰) said.
The last thing he wants to see is a repeat of the predicament faced by pan-blue supporters in 2000 when Soong ran for president as an independent candidate after failing to obtain the KMT's nomination.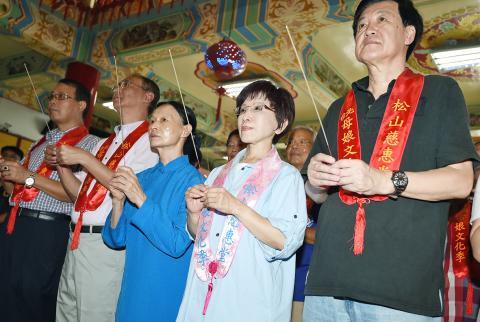 Chinese Nationalist Party (KMT) presidential candidate Hung Hsiu-chu, second right, KMT Legislator Alex Fai, right, and others burn incense at Sung Shan Tsu Huei Temple in Taipei's Xinyi District yesterday.
Photo: Chien Jung-fong, Taipei Times
Soong's entry into the 2000 election and his departure from the KMT played a decisive role in former president Chen Shui-bian (陳水扁) being elected as the nation's first non-KMT directly elected president.
"If we [the pan-blue camp] splits again, the KMT could see more members leaving, particularly given the close relations between Soong and many KMT lawmakers," Lu said.
Lu urged top KMT leaders not to treat the issue lightly and to push for integration or an alliance with other political forces.
Another KMT legislator, who spoke on condition of anonymity, said the KMT could be hit by a new wave of departures if the party headquarters remains inactive on the issue.
"Even though [Deputy Legislative Speaker] Hung Hsiu-chu (洪秀柱) became the party's presidential candidate through the official nomination process, we should explore other options if she is doomed to fail and is going to take the party down with her," the lawmaker said.
He said he was not the only KMT member who wanted someone else to be named as its presidential candidate.
KMT Legislator Lo Shu-lei (羅淑蕾), a former PFP member, said she has no plans to quit the party.
She said she was not the type of person to leave her party when it is in trouble.
As for KMT Legislator Lee Hung-chun's (李鴻鈞) decision to drop out of January's legislative elections and announce his support for Soong, Lo said there had been rumors that Lee's brother, former minister of the interior Hong-yuan (李鴻源), could be Soong's vice presidential running mate, which would make it unlikely that Lee Hung-chun would remain in the KMT.
"Lee Hung-chun has also said privately on several occasions that he was reluctant to run for legislator at such a difficult time," Lo said.
Asked if Soong's entry to the presidential race would spark a mass exodus of KMT members, Lo said she though such defections would be limited because it is not the first time the party has been divided.
Other KMT legislators said they were not surprised to see Soong surge past Hung in opinion polls.
KMT Legislator Wu Yu-sheng (吳育昇) said while Soong's campaign would inevitably have an impact on Hung's candidacy, it was still too early to talk about abandoning anyone.
"We cannot judge a person's chance of winning based on one single poll. Experiences shows that a candidate often surges in polls the day after his or her announcement that they plan to enter the race," Wu said.
The KMT would not replace Hung as its candidate, Wu said.
KMT Legislator Lu Hsueh-chang (呂學樟) said Soong's performance in the polls was likely to be a temporary phenomenon and there was no need to abandon Hung.
"The KMT still maintains its voter base. I am generally optimistic about the party's campaign," he said.
Hung flatly dismissed the possibility that she might be replaced by another KMT member.
"Do not take it seriously. There is no such thing. I can say with a 100 percent certainty that this will never happen," Hung said on the sidelines of a visit to Taipei's Sung Shan Tsu Huei Temple yesterday morning.
Asked to comment on Soong's staying in politics even though he had promised to quit following his defeat in the 2006 Taipei mayoral election, Hung said the public could make up its own mind.
"Wherever you go, you leave your traces behind. Whatever you say, you leave records behind," she said.
Comments will be moderated. Keep comments relevant to the article. Remarks containing abusive and obscene language, personal attacks of any kind or promotion will be removed and the user banned. Final decision will be at the discretion of the Taipei Times.