PFP presidential candidate Soong takes aim at KMT
People First Party (PFP) presidential candidate James Soong (宋楚瑜) yesterday struck back at the Chinese Nationalist Party (KMT) over its criticism of his presidential bid, saying he is neither a person crippled by a dismal support rating after eight years in the office, nor someone who forcibly expropriated people's private property to benefit large corporations.
Soong made the remarks yesterday morning during an interview with Hit FM radio host Clara Chou (周玉蔻) in response to an accusation on Thursday by the KMT that he is derived from former president Chiang Ching-kuo's (蔣經國) spirit.
"Chiang's spirit contained two parts: cross-strait policies and domestic policies. The former emphasized that he was both a Chinese and a Taiwanese, and that he would not turn his back on the Zhonghua minzu [Chinese ethnic group, 中華民族], nor walk away from his responsibility to Taiwanese," Soong said.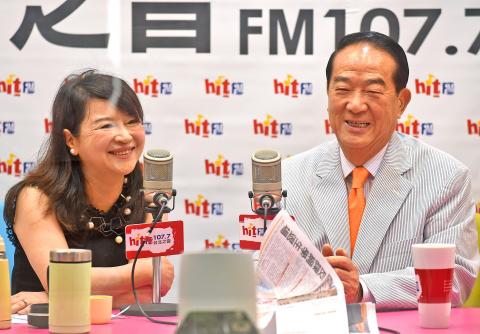 People First Party (PFP) Chairman James Soong, right, speaks about his presidential candidacy with radio show host Clara Chou in Taipei yesterday.
Photo: Chien Jung-fong, Taipei Times
As for his domestic policies, Chiang attached great importance to economic development, but at the same time, he also stressed the importance of justice in wealth distribution, added Soong, who served as a personal English translator for Chiang.
Soong said that the former president believed that those in power must not prioritize the profits of big business while letting ordinary people starve.
"I want to ask: 'Who is the person that has repeatedly been strong-armed by large conglomerates and has allocated the benefits of cross-strait exchanges only to high-profile individuals?'" he said.
"Who has made the nation's youth unable to afford housing and left them stuck with the same starting salary as that which was offered to people 15 years ago? Who is the one that has really forsaken Chiang's spirit and seen his support rating plunge to only 9 percent?" he said, hinting at President Ma Ying-jeou (馬英九) of the KMT.
The politician also leveled criticism at KMT Vice Chairman Hau Lung-bin (郝龍斌), who on Thursday accused him of having strayed from Republic of China founding father Sun Yat-sen's (孫逸仙) political ideologies.
"Our founding father advocated land ownership equalization, yet Hau seized people's land at a low price and then used it to benefit large corporations," Soong said.
"Do these actions conform to the ideologies of Sun? Who is the one that has drifted away from public opinion?" he added.
Asked to comment on remarks about his Guinness World Records title for contesting a presidential election for a fourth time, Soong said former US president Abraham Lincoln vied for presidency six times.
"Besides, Sun launched 10 failed revolutionary uprisings before eventually succeeding. I have also yet to beat his record too," Soong said.
On the possibility of him picking Taipei Mayor Ko Wen-je (柯文哲) as his vice president, the 73-year-old said he thought highly of Ko's performances as a mayor and jokingly asked Chou to help persuade Ko into partnering him.
Comments will be moderated. Keep comments relevant to the article. Remarks containing abusive and obscene language, personal attacks of any kind or promotion will be removed and the user banned. Final decision will be at the discretion of the Taipei Times.