Curriculum Protests: Efforts needed to prevent emulation suicide: doctor
Efforts must be taken to prevent young people committing suicide like student protester Dai Lin (林冠華), as youths have been known to emulate suicidal events of their peers, Tri-Service General Hospital department of psychology director Yeh Chi-pin (葉啟斌) said.
Lin, a member of the Northern Taiwan Anti-Curriculum Changes Alliance, was found dead near burning charcoal early on Thursday morning, the day of his 20th birthday.
According to Yeh, Lin burned coal in an enclosed space, a method with one of the highest success rates.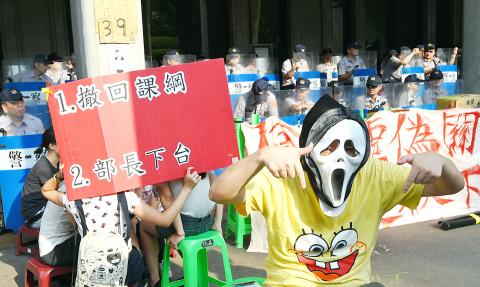 Student protesters yesterday continue their sit-in at the Ministry of Education against the government's "minor adjustments" to the high-school curriculum guidelines.
Photo: Chang Chia-ming, Taipei Times
"A majority of participants in the anti-curriculum changes events are youths and there exists the possibility of an emulation effect," Taiwanese Society of Suicidology director Yang Tsung-tsai (楊聰財) said.
"Emulation might see incidents ranging from self-mutilation to suicide in attempts to reinforce the message," Yang said.
"People might have negative emotions because of the student protests. We suggest these students talk to friends, family or teachers if they are feeling helpless or frustrated," Yang said.
"Students should find ways to balance their emotions by talking with friends, going out to sing, or using other calming methods, such as diaphragmatic breathing or keeping a diary or journal about things that make them happy," Yang said.
"We also encourage parents and teachers to be proactive and keep a close eye on children or students if they see a drop in sleeping quality, a loss of appetite or less time spent on sports," Yang said.
"Being alert and actively asking after people if they show such changes could help prevent tragedies," Yang said, adding that if need be, parents and teachers should refer these people for professional help.
Comments will be moderated. Keep comments relevant to the article. Remarks containing abusive and obscene language, personal attacks of any kind or promotion will be removed and the user banned. Final decision will be at the discretion of the Taipei Times.