Students protest university fee hikes
COMMITTEE DEFENDED: Higher Education Division official Lee Hui-min said a review process was rigorous and conducted in accordance with proper regulations
Students yesterday protested the approval of university tuition hikes by the Ministry of Education.
Protestors from the Alliance Against the Commercialization of Education gathered in front of the ministry's building in Taipei and demanded that the ministry reverse approval of tuition hikes of up to 2.5 percent for nine universities, questioning the rigor of the review process.
"The Ministry of Education told us that it would conduct a strict review, but there are no indications this promise was adhered to when looking at the results," protester Lee Su-chun (李蘇峻) said, citing profits of up to NT$250 million (US$7.9 million) earned by many of the universities involved.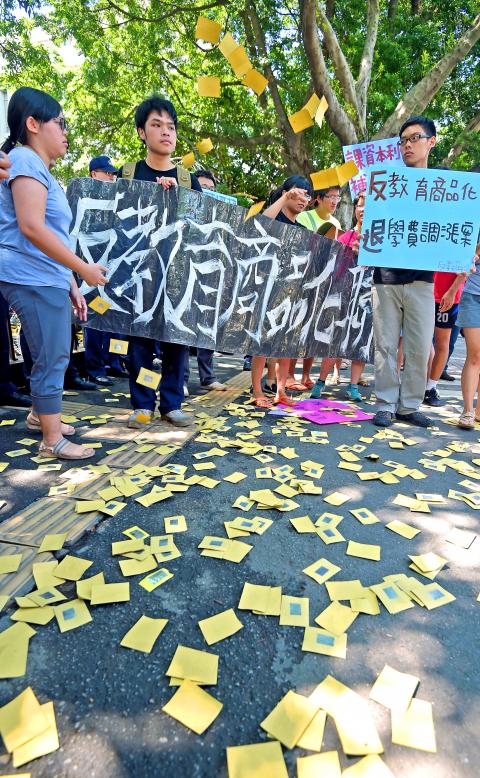 A group opposed to university fee hikes protest outside the Ministry of Education building in Taipei yesterday.
Photo: Wang Min-wei, Taipei Times
Lee said the ministry rejected requests to provide the minutes from the review committee meeting, as well as the names of committee members and the selection process they went through.
"We do not know to whom the review committee listened, as well as whether or not it possessed real autonomy," protester Wu Chao-ju (吳昭儒) said, calling for the ministry to link future increases to inflation.
Protesters reiterated demands that capital gains taxes be increased to boost university subsidies, and called for the regulations governing tuition hikes to be revised to allow more transparency and remove incentives for universities to apply for fee hikes.
Protesters threw "ghost money" at ministry officials to symbolize the "greed" of the ministry and universities, and hung a banner marked with red hand prints, which they said was their way of accusing the ministry of bankrupting students by taking from the poor to give to the rich.
Higher Education Division official Lee Hui-min (李惠敏) said that the ministry's review process was rigorous and conducted in accordance with the law, only approving the applications of nine universities out of the 23 that applied.
Additional reporting by Wu Po-hsuan
Comments will be moderated. Keep comments relevant to the article. Remarks containing abusive and obscene language, personal attacks of any kind or promotion will be removed and the user banned. Final decision will be at the discretion of the Taipei Times.