Huang Kuo-chang announces run for legislature
Academia Sinica researcher Huang Kuo-chang (黃國昌) yesterday officially announced his candidacy for New Taipei City's 12th constituency on the New Power Party ticket, promising to resign from his position with the nation's top research institute before registering for the legislative elections.
"I would like to tell all my friends out there that I have decided to join politics by running for the legislative seat representing New Taipei City's 12th constituency, which includes my hometown, Sijhih (汐止), as well as Rueifang (瑞芳), Jinshan (金山), Wanli (萬里), Pingsi (平溪), Shuangsi (雙溪) and Gongliao (貢寮) districts," Huang said in a press conference at the Taiwan Presbyterian Church in Sijhih.
He said the nation is facing a multitude of crises: the Chinese threat, skyrocketing national debt, a pension system on the brink of bankruptcy, an unfair taxation system, low salaries, rising property prices and low food self-sufficiency.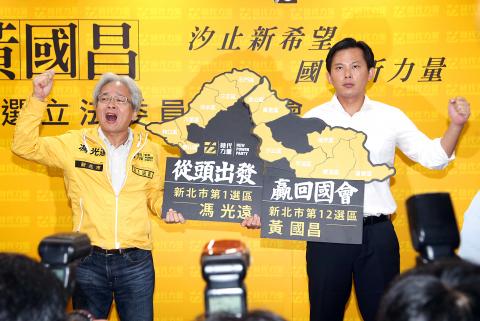 Academia Sinica researcher Huang Kuo-chang, right, holds a press conference in Sijhih yesterday to announce his intention to run as a New Taipei City legislator with the New Power Party and to resign from Academia Sinica.
Photo: CNA
"However, we do not see a government that can solve these problems; instead, we see collusions between the government and businesses, abuse of power and failed governance," he said.
Huang said he decided to join the elections in the hopes of changing the legislature's structure in his quest for a better future for the nation.
"We do not have a lot of time left; we must act now," Huang said. "For the sake of Taiwan's future, young people have stood up, university students have stood up and even high-school students have stood up' now, it is time for me to stand up."
Asked why he changed his mind after vowing last month that he would not run in the city's 12th constituency and would throw his support behind Democratic Progressive Party (DPP) New Taipei City Councilor Shen Fa-hui (沈發惠), Huang said he had met with DPP election campaign strategy committee convener Su Jia-chyuan (蘇嘉全), who said that the DPP has decided not to nominate a candidate and to yield the constituency to Huang.
Comments will be moderated. Keep comments relevant to the article. Remarks containing abusive and obscene language, personal attacks of any kind or promotion will be removed and the user banned. Final decision will be at the discretion of the Taipei Times.