Curriculum Protests: Ko takes the blame for reporters' arrests
The police chief who arrested three journalists on Thursday night will not be punished, Taipei Mayor Ko Wen-je (柯文哲) said yesterday.
The journalists were arrested along with student activists and charged with trespassing on the Ministry of Education's grounds, with police officers temporarily confiscating their mobile phones and cameras.
"I view this as an unexpected situation and am prepared to shoulder the responsibility myself because there were no clear rules to follow," said Ko, adding that it would be unfair to for Zhongzheng First Precinct Police Chief Chang Chi-wen (張奇文) to take the blame for the journalists' arrest.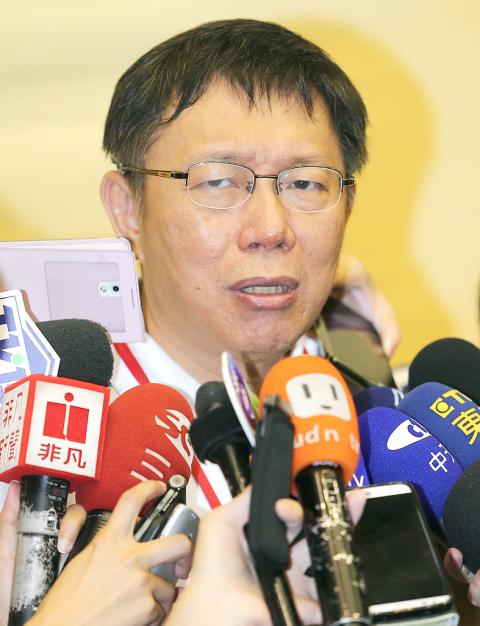 Taipei Mayor Ko Wen-je talks to the media in Taipei yesterday.
Photo: CNA
Late on Friday, Ko apologized in a media release for what he said was the police department's "infringement on press freedom."
During the incident, the police department was not able to follow his administration's standard operating procedure for dealing with journalists during protests, which call for an on-site police officer to be appointed as a point man for press relations, he said.
Ko said the reporters should not have been arrested, while avoiding questions on whether they had a right to be in the building. Reporters and police officers have different responsibilities which need to be harmonized, he said.
He said the police department would review procedures for dealing with similar incidents in the future, adding that he would also work with the National Police Agency to clarify the chain of command during future protests.
The Taipei mayor shares command of the city's police department with the agency.
"While I did not issue the order [to arrest the reporters], I do not know who was behind it and I do not dare to guess," Ko said.
At one point, Ko called Minister of Education Wu Se-hwa (吳思華) a "hired thug," who was obligated to press charges but later added that he had misspoken.
He said that he "did not really approve" of the students breaking in to the ministry building, but added that "when the nation is abnormal, it is difficult for every person to act normally."
In Friday's media release, he had said the students' "bravery" was "praiseworthy."
Comments will be moderated. Keep comments relevant to the article. Remarks containing abusive and obscene language, personal attacks of any kind or promotion will be removed and the user banned. Final decision will be at the discretion of the Taipei Times.