Deer chased by dog runs into a tourist in Kenting
A tourist in Kenting's Sheding Nature Park suffered minor injuries last week after a Formosan sika deer being chased by a dog ran straight into him, causing a cut that required stitches, the Kenting National Park Administrative Office said.
It was the first time a human has ever been injured by a deer at the park, rather than the other way around.
Footage of the event shows the excitement of the man seeing a Formosan sika deer running quickly turning into fear when the deer turned toward the people.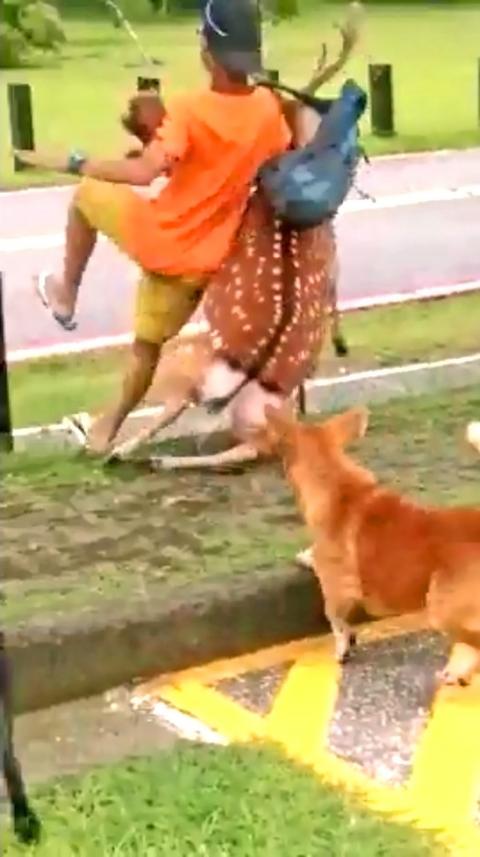 A boy is knocked to the ground by a Formosan sika deer that is being chased by a dog on a road in Pingtung on Wednesday.
Photo: Copy by Chen Yen-ting , Taipei Times
The injured person was a second-year junior-high school student on a family trip to Kenting.
The boy's mother said the family trip had been difficult to schedule and it was annoying that she had to take her child to the hospital for stitches.
The office said that previous incidents involving Formosan sika deer usually saw the deer being hit by cars.
All incidents that occur in the park are covered by insurance and the tourists can ask for compensation with proof of receipt, the office said.
The office also identified the dog in the video as owned by locals and the office said it would step up measures to keep dogs away from the park.
Aside from 20 sika deer that will be allowed to breed, the park plans to neuter all other male sika deer to control the population, the office said.
Comments will be moderated. Keep comments relevant to the article. Remarks containing abusive and obscene language, personal attacks of any kind or promotion will be removed and the user banned. Final decision will be at the discretion of the Taipei Times.