TMA urges respect for burn decisions
FALLOUT: Remarks from the Consumers' Foundation on Tuesday could spark disputes over treatment of the victims of the Color Play Asia blast and fire, experts say
The Taiwan Medical Association (TMA) yesterday urged the public to respect physicians' professionalism and medical decisions in the wake of recent "suggestions" from the Consumers' Foundation's on the treatment of burn victims in the Formosa Fun Coast (八仙海岸) inferno last month.
"More than 20 of the victims sustained burns covering more than 80 percent of their bodies. However, despite these distressing circumstances, the nation's doctors have managed to maintain a relatively low fatality rate in the catastrophic event," association secretary-general Tsai Ming-chung (蔡明忠) told a news conference in Taipei.
The public should have faith in Taiwan's medical system, which was highly lauded by six Japanese physicians who visited earlier this week to conduct case discussions and exchange views on the treatment of burn victims, Tsai said.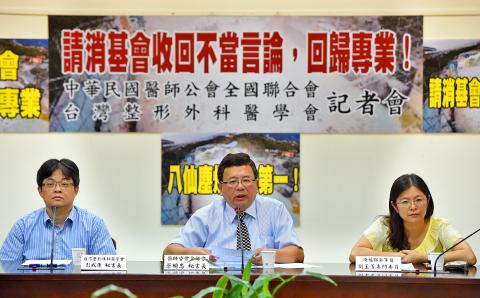 Taiwan Medical Association secretary-general Tsai Ming-chung, center, and Taiwan Society of Plastic Surgery secretary-general Peng Cheng-kang, left, yesterday hold a press conference at the Legislative Yuan in Taipei demanding that the Consumers' Foundation not make improper comments on the medical treatment of the victims of the Color Play Asia fire.
Photo: Liao Chen-huei, Taipei Times
Tsai also questioned the foundation's recent comments, saying that no individual or organization should make unsubstantiated remarks that unnerve the public.
At a news conference on Tuesday, foundation representatives said there was ample room for improvement in hospitals' courses of treatment for the victims and offered their own medical advice.
"Some hospitals conducted debridement on all of the victims, but a medical specialist who requested anonymity said it is better to use hydrocolloid dressings on patients with first and second-degree burns instead, as they ensure better quality wound healing," foundation chairman Alan Lu (陸雲) said.
As for individuals sustaining third-degree burns, Lu said medical personnel to immediately carry out debridement before applying artificial skin to the affected areas, particularly those on the neck and joints, to prevent stiffness and complications.
Taiwan Society of Plastic Surgery secretary-general Perng Cherng-kang (彭成康) described the foundation's advice as "someone trying to drag the feet of frontline soldiers."
"The depths of burn injuries vary. Only shallow second-degree burns can heal naturally. The foundation's remarks could create the misconception that doctors have failed to properly treat patients and could lead to medical disputes," Perng said.
The Ministry of Health and Welfare issued a news release late on Tuesday urging organizations to respect the judgement and professionalism of physicians and to refrain from distributing unfounded or false information.
Meanwhile, the family of Tseng Fang-ching (曾芳津), a 35-year-old woman who sustained burns to 57 percent of her body, yesterday decided to remove her from life support.
Tseng became the sixth fatality from the June 27 explosion and fire.
According to the Chang Gung Memorial Hospital's Keelung Branch, Tseng had been attached to an extracorporeal membrane oxygenation machine and experienced multiple organ failures due to infections and sepsis.
Tseng's 31-year-old younger brother, Tseng Ho-chien (曾和健), was also injured in the inferno.
He developed burns on 92 percent of his body and is in intensive care at the Taipei Veterans General Hospital.
Comments will be moderated. Keep comments relevant to the article. Remarks containing abusive and obscene language, personal attacks of any kind or promotion will be removed and the user banned. Final decision will be at the discretion of the Taipei Times.