Ko 'conflicted' over typhoon day decision
The Taipei City Government was conflicted about yesterday's decision to declare a typhoon day, halting work and closing schools, Taipei Mayor Ko Wen-je (柯文哲) said yesterday, with the halt to school and work announced later than announcements by past city administrations.
"I was scared that after we made the announcement, we'd find the next morning had perfect weather for an outing," Ko said after hearing a report at Taipei's Emergency Operations Center on Typhoon Chan-Hom, adding the lack of rain last night made him feel worried.
Ko said the decision to call the typhoon day was made to respect the "expert opinion" of the Central Weather Bureau, whose weather report predicted that wind speeds would reach the legal threshold for halting work and classes by noon yesterday.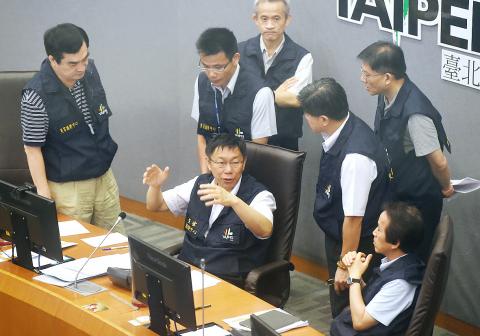 Taipei City Government officials yesterday brief Taipei Mayor Ko Wen-je, center, on the impact of Typhoon Chan-Hom at the city's Emergency Operations Center.
Photo: Chien Jung-fong, Taipei Times
It would be "strange" for city residents to go to work only to be told to head home at about 10am," he added.
Thursday's 10pm announcement of yesterday's typhoon day came two hours later than the practice of previous city administrations. Ko, a self-described standard-operating-procedure (SOP) fanatic, earlier this week had announced changes to the decision timeline to allow greater precision.
While previous administrations would declare a typhoon day before 8pm the preceding day, new city guidelines call for the decision to be postponed until 10pm if there are doubts over the typhoon's strength and course. Further postponement to 4:30am the next day is also possible.
Meanwhile at the Emergency Operations Center, Ko directed all city departments to submit their typhoon SOPs and "checklists" to the Taipei City Fire Department for consolidation.
He added that it was "strange" that the city government would independently decide whether to release water from the Feitsui Reservoir (翡翠水庫) rather than the central government issuing unified directives for Tamsui river reservoirs.
With a typhoon watch in effect throughout northern municipalities and counties, New Taipei City, Keelung and Taoyuan also announced halts to work and classes, with Yilan County the notable exception.
A Facebook post by Yilan County Commissioner Lin Tsung-hsien (林聰賢) late on Thursday night drew substantial dissatisfaction from netizens, with more than 900 responses such as: "Who will guarantee the safety of Yilan residents?"
In a later post, Lin said Yilan would be affected less by Typhoon Chan-Hom than other northern counties and municipalities because it was leeward of the typhoon's counter-clockwise spiral. The Central Weather Bureau had estimated that the county would receive only between 100mm and 200mm of rain, with wind speeds also falling below the threshold for a typhoon day, he said.
Lin yesterday said that because everyone hoped there would be a typhoon day, netizens' dissatisfaction was "hard to avoid."
He added that the county's decisionmaking process was rigorous, based not only on the data provided by the Central Weather Bureau, but also on an analysis conducted in cooperation with Ming Chuan University.
Additional reporting by Chu Tse-wei
Comments will be moderated. Keep comments relevant to the article. Remarks containing abusive and obscene language, personal attacks of any kind or promotion will be removed and the user banned. Final decision will be at the discretion of the Taipei Times.