Smuggled firearms seized at Kaohsiung harborside
POWERFUL HANDGUNS: The three semi-automatic weapons seized by police were allegedly sought after by drug gangs wanting to protect themselves from rivals
The Ministry of Justice's Investigation Bureau (MJIB) announced that they detained a man trying to smuggle three handguns into the country, which are allegedly sought after by gangsters.
A bureau spokesperson said the three firearms were advanced semi-automatic handguns — one German-made Walther P99 pistol, one Austrian-made Glock pistol and an Israeli-made IMI Desert Eagle pistol.
Officials at the MJIB's Marine Affairs Field Office in Kaohsiung said they had been monitoring drug-trafficking gangs in the south in recent months, and were informed about a possible firearm smuggling operation.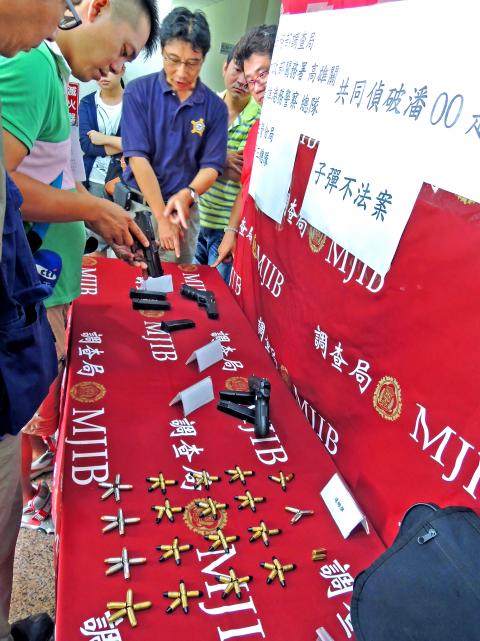 Firearms seized from a registered container ship at Port of Kaohsiung are displayed in Kaohsiung yesterday.
Photo: Huang Chien-hua, Taipei Times
The ship involved is a Marshall Islands-registered cargo ship named Aruna Ipsa.
It is operated by Wan Hai Lines shipping company and its captain is a Chinese national, as are most if its crew.
The Aruna Ipsa docked at Kaohsiung Harbor's No. 77 Pier on Friday last week after making stops on a recent voyage in Hong Kong, Shenzhen, China, and Manila.
A 54-year-old suspect was said to be seen entering the ship at night on Friday last week as cargo containers were being unloaded, emerging from the vessel with a backpack containing the smuggled firearms.
Bureau agents, joined by customs officers, harbor police and military police units, arrested the suspect as he prepared to leave the harbor's parking lot.
Along with the three pistols, agents found 89 rounds of ammunition in the suspect's backpack.
According to Chung Ta-chen (鍾達振), the deputy chief of Marine Affairs Field Office in Kaohsiung, the weapons are in high demand and each pistol can fetch about NT$800,000 to NT$1 million (US$25,616 to US$32,020) on the black market, while rounds of ammunition could be sold for up to NT$500,000.
Chung said the suspect was a member of a drug-trafficking gang and had previous convictions related to possession of drugs and firearms.
Chung said the firearms were picked up from the ship using the "dead drop" method, with a crew member placing the contraband into a designated trash can in the washroom next to the ship's staircase for the suspect to pick up.
The suspect was being detained for questioning, and authorities fingerprinted all the ship's crew members.
Comments will be moderated. Keep comments relevant to the article. Remarks containing abusive and obscene language, personal attacks of any kind or promotion will be removed and the user banned. Final decision will be at the discretion of the Taipei Times.