Taiwanese part of Solomons' probe
Working with researchers from the University of Texas at Austin, Taiwanese geology professor Shen Chuan-chou (沈川洲) was part of a team that uncovered a history spanning millennia of seismic activity around the Solomon Islands in the South Pacific.
Until a devastating earthquake in 2007 proved otherwise, close to a century's worth of seismic monitoring data going back to the British colonization of the area in the early 1900s had led to the belief that the region was free of large earthquakes.
The magnitude 8.1 quake in 2007 caused a subsequent tsunami that killed 52 people.
University of Texas doctoral student Kaustubh Thirumalai, left, inspects faro coral near the Solomon Islands' Ranongga Island in an undated photograph.
Photo courtesy of National Taiwan University associate professor Shen Chuan-chou
Coral reefs near beaches are "natural seismic activity recorders," as they provide evidence of earthquakes, Shen said.
Through a chemical analysis similar to carbon dating, the team was able to deduce when earthquakes occurred, he said
As seismic activity usually causes land near the epicenter of an earthquake to rise, the tips of coral reefs exposed to air would be unable to continue upward growth, instead growing sideways and forming disc-shaped reefs, Shen said.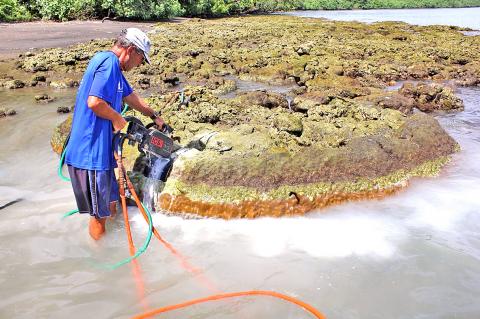 Fred Taylor, a professor at the University of Texas at Austin, collects samples from faro coral in the Solomon Islands in an undated photograph.
Photo courtesy of National Taiwan University associate professor Shen Chuan-chou
The coral's elevation and time of death rendered clues about the strength of earthquakes, he said.
The Texas team, which worked around Ranongga Island in the Solomon's Western Province, found that massive earthquakes had occurred in the region every 500 to 1,000 years over the past 4,000 years.
Lead researcher and University of Texas Institute for Geophysics doctoral student Kaustubh Thirumalai said that "this … shows the importance of paleoseismology and paleogeodesy."
"If we have 100 years of instrumental data saying there's no big earthquakes here, but we have paleo-records that say … five giant ones in the last few thousand years, that gives you a different perspective on hazards and risk assessment," Thirumalai said in a recent University of Texas publication.
There is sufficient evidence showing that if the interaction model between tectonic plates does not change, the chances of large earthquakes that would threaten local populations are low, Shen said.
However, due to the frequency of tectonic activity near Taiwan and the plethora of coral reefs surrounding the nation, establishing an archive of the earthquakes that have occurred in the region would be a great benefit, Shen said.
Shen said that he has located a spot off the coast of Kenting Township (墾丁) in Pingtung County, near the Ma-anshan Nuclear Power Plant, that would be suitable for a survey and plans to conduct research on the frequency of strong earthquakes near Taiwan.
The Texas team's findings were published in the latest edition of Nature Communications magazine, which came out on Wednesday last week, as well as in a paper published by the university.
Additional reporting by Tsai Ying
Comments will be moderated. Keep comments relevant to the article. Remarks containing abusive and obscene language, personal attacks of any kind or promotion will be removed and the user banned. Final decision will be at the discretion of the Taipei Times.