Tsai says Hung's policies 'reckless'
STRATEGY: The DPP said it would improve cooperation between central and local governments through plans for regional development in accordance with local needs
Democratic Progressive Party (DPP) Chairperson Tsai Ing-wen (蔡英文) yesterday criticized Deputy Legislative Speaker Hung Hsiu-chu (洪秀柱) of recklessness in her cross-strait policy proposals after Hung accused Tsai of hiding her support for Taiwan's independence to cheat voters.
"We should refrain from being reckless in cross-strait policies, as the public expects us to have platforms that are stable, predictable and in line with public opinion," Tsai told reporters when asked to comment on Hung's criticism of her cross-strait policies during a campaign event in Taichung. "These are the most fundamental principles that any policymaker should follow."
Tsai went on to say that Hung has repeatedly changed her position on cross-strait issues, at times appearing reckless.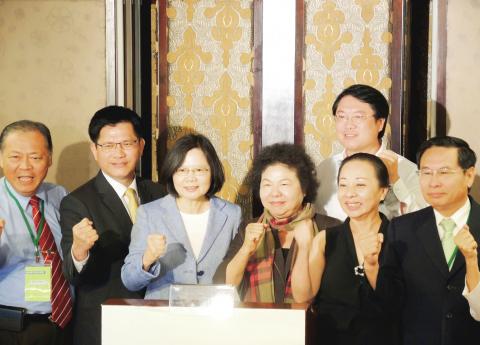 Democractic Progressive Party Chairperson Tsai Ing-wen, third left, Taichung Mayor Lin Chia-lung, second left, Kaohsiung Mayor Chen Chu, fourth left, and other local DPP government heads gesture at a meeting of party leaders in Taichung yesterday.
Photo: CNA
"It seems like it is the Chinese Nationalist Party (KMT) that is being reckless," Tsai said.
Tsai was referring to the KMT presidential hopeful's comments at a campaign event on Friday night, where Hung alleged that Tsai supports Taiwan's independence, but does not dare publicly announce it, and is waiting to be elected to move forward on the issue.
Tsai made the remarks at a policy conference attended by all DPP local government heads except Tainan Mayor William Lai (賴清德), Pingtung County Commissioner Pang Meng-an (潘孟安), Yunlin County Commissioner Lee Chin-yung (李進勇) and Yilan County Commissioner Lin Tsung-hsien (林聰賢).
At the conference, Tsai and the local government heads agreed that once the party secures power in next year's elections, it would strive to improve cooperation between central and local governments to bridge gaps, regardless of whether a region is governed by the DPP or the KMT.
The DPP also vowed to draw regional development plans to assist counties and cities according to local needs.
Comments will be moderated. Keep comments relevant to the article. Remarks containing abusive and obscene language, personal attacks of any kind or promotion will be removed and the user banned. Final decision will be at the discretion of the Taipei Times.