Top officials give conflicting advice
CHINA-CENTERED AUDIENCE: A get-together for Taiwanese businesspeople based in China was attended by some top Ministry of Economic Affairs and SEF personnel
Top officials delivered a mixed message to Taiwanese businesspeople working in China yesterday, with Minister of Economic Affairs John Deng (鄧振中) vowing to create a more investment-friendly environment to entice investment in Taiwan, while Straits Exchange Foundation Chairman Lin Join-sane (林中森) called for Taiwan's participation in Beijing "One Belt, One Road" trade intiative a way to boost local businesses international visibility.
Speaking at a Dragon Boat Festival get-together in Taipei for China-based Taiwanese, Deng said Taiwan's business environment has an edge over China in terms of transparency and rule of law, while Taiwanese enterprises have seen their operating costs in China rise because of higher labor costs and more stringent environmental and labor laws.
The complaints China-based Taiwanese businesspeople file with the ministry are mostly disputes about land-use rights and compensation for land acquisition, he said.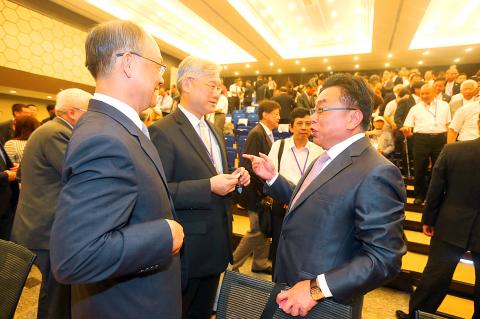 Association of Taiwan Investment Enterprises on the Mainland chairman Kuo Shan-hui, right, yesterday speaks to Minister of Economic Affairs John Deng, left, and Mainland Affairs Council Minister Andrew Hsia, center, at a get-together at the Straits Exchange Foundation in Taipei.
Photo: CNA
The government has committed itself to assisting Taiwanese businesses in investing at home and positioning themselves globally, Deng said, referring to a new online export momentum assessment system.
The government has also been acquiring vacant properties and establishing an industrial land reserve system and an industrial land database, he said.
Department of Investment Services Director Vivian Lien (連玉蘋) said the Ministry of Economic Affairs set its goal for domestic investment by overseas Taiwanese businesspeople this year at NT$53.5 billion (US$1.73 billion), and 76 percent of that amount, or NT$40.4 billion, was reached just at the end of last month.
Not only did that exceed the ministry's expectations, it surpassed the investment amount reached during the same period last year, she said.
Association of Taiwan Investment Enterprises on the Mainland chairman Kuo Shan-hui (郭山輝) told the gathering that he would support Deputy Legislative Speaker Hung Hsiu-chu's (洪秀柱) presidential bid on the Chinese Nationalist Party (KMT) ticket, saying Hung has concerned herself with the predicament of Taiwanese businesspeople in China, according to the Chinese-language Apple Daily.
"What concerns Taiwanese businesspeople most is the cross-strait relations, and any party that can consistently involve itself with the investment rights of Taiwanese businesspeople in China is good," Kuo said.
Taiwanese businesspeople have suffered from the global and Chinese economic slowdown this year, so it is imperative that Taiwanese businesses undergo an industrial transition to survive, Kuo said.
Chinese recently announced "Made in China 2025" plan would spur the automatic production in China and boost Taiwanese industrial upgrades, Kuo said.
The Chinese government is engaged in economic and political reforms, which promise a fairer business environment for Taiwanese, with Chinese President Xi Jinping (習近平) promising to"rule the country in accordance with law" in his New Year speech this year, Kuo said.
However, addressing the increasing competition that Taiwanese businesses are facing from their Chinese counterparts, Taiwan Merchant Association in Shenzhen president Chen Ho-tai (陳合泰) said the "One Belt, One Road" initiative is a turning point for Taiwanese enterprises to launch an industrial transition and avert conflicts with Chinese companies.
Lin echoed Chen's view, saying that Taiwan's participation in the Chinese initiative is crucial to creating new market space, as countries included in the "One Belt, One Road" framework are populous and have lower GDPs — prospective "blue oceans" of business opportunities.
Comments will be moderated. Keep comments relevant to the article. Remarks containing abusive and obscene language, personal attacks of any kind or promotion will be removed and the user banned. Final decision will be at the discretion of the Taipei Times.