Tsai 'Time' cover photo met with mixed reaction
Photographer Adam Ferguson, whose portrait of Democratic Progressive Party (DPP) Chairperson Tsai Ing-wen (蔡英文) made the cover of Time magazine's upcoming Asia edition, but drew mixed reactions in Taiwan, asked netizens for feedback on his photograph.
Ferguson said on Facebook that he appreciated different opinions on his work after it drew criticism on the Internet, mostly accusing him of making the 58-year-old Tsai look older than she is.
"I actually think the image is quite stoic in nature and depicts Tsai Ing-wen in a positive way," Ferguson said on Friday.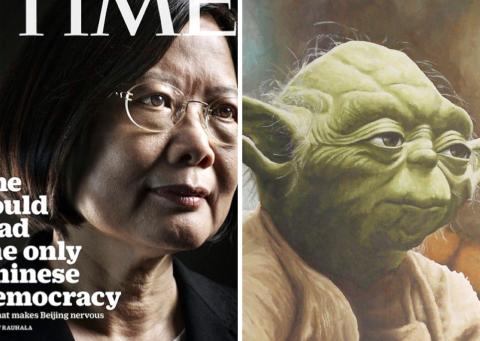 A montage juxtaposes a picture of Democratic Progressive Party (DPP) Chairperson Tsai Ing-wen with a picture of Jedi Master Yoda from the Star Wars movies after netizens said a picture of Tsai used on the cover of Time magazine made her look like Yoda.
Screen grab from PTT
Many of Tsai's supporters and some local media said the portrait made Tsai "look old" and as though she "has poor skin."
"Did they have to use this picture?" said one netizen, while another said: "It looks like a horror movie poster."
However, others praised Ferguson's image. One said the shot was "a profile full of wisdom."
While Ferguson said he was open to criticism and different readings of the photograph, he added: "[The image] is ultimately a political portrait and I have deliberately not pandered to a visual language that accentuates youth [because] our daily lives are already saturated with imagery like this through fashion."
Ferguson also displayed a good sense of humor, even in the face of a photo-montage comparing his shot of Tsai to the Star Wars character Yoda.
"My intent was for [the image] to be a strong character-driven portrait that speaks about aspiration more than beauty," he said.
"Ps. If only Master Yoda was at the helm of a few countries," Ferguson added.
Comments will be moderated. Keep comments relevant to the article. Remarks containing abusive and obscene language, personal attacks of any kind or promotion will be removed and the user banned. Final decision will be at the discretion of the Taipei Times.