US doesn't understand me, Hung says
TOO WORDY: Hung Hsiu-chu criticized Tsai Ing-wen's 'new model' economy, saying the DPP candidate should refrain from using 'adjectives' and provide concrete policies
Chinese Nationalist Party (KMT) presidential hopeful Hung Hsiu-chu (洪秀柱), in response to Time magazine's description of Democratic Progressive Party (DPP) presidential candidate Tsai Ing-wen (蔡英文) as the likely winner of January's election, said yesterday it was because the US has little understanding of her, as, unlike Tsai, she has only recently emerged as a candidate.
After Tsai made it onto the cover of Time, Hung congratulated her adversary in a radio interview yesterday and said it was "good" that she appeared on the cover.
When asked about the magazine referring to Tsai as possibly the nation's next leader, Hung said it was because Tsai has been preparing for the presidential election for years and the US has a good understanding of her.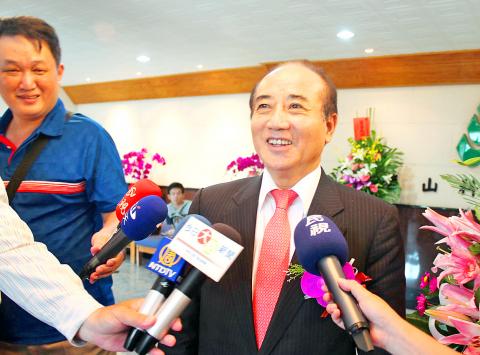 Legislative Speaker Wang Jin-pyng talks to reporters after attending a graduation ceremony at Kun Shan University in Tainan yesterday.
Photo: Lin Meng-ting, Taipei Times
Hung said that not only the US, but even the Chinese government is probably at a loss about how she has become a contender for president.
"[The magazine] said that only because they do not know me at all," Hung said.
Hung also criticized what Tsai calls a "new model" of economic development — which is to lessen the nation's dependence on China by building global ties and championing local brands — saying a candidate who is aiming to be a nation's leader should refrain from using "adjectives" and provide concrete policies.
Later yesterday, Hung also reiterated her thoughts on visiting the US before the election, doubting it was necessary and saying that she would want to use the time to campaign in Taiwan, "where the votes are."
"Visiting the US before the election is a convention created by [former president] Chen Shui-bian (陳水扁), who went there because [Washington] had misgivings about the DPP taking over the presidential office, but many of the KMT's policies are consistent with those of the US, which has a good understanding of the KMT. That's why I'm not planning a visit," Hung said.
Separately yesterday, Legislative Speaker Wang Jin-pyng (王金平), who on Thursday seemed poised to throw his support behind Hung, but later the same day turned down Hung's offer to be chief executive of her campaign headquarters, said he declined the offer because the speaker needs to remain neutral and he has a packed schedule.
"I have Hung's understanding and acceptance [of the decision]," Wang said.
Meanwhile, KMT Chairman Eric Chu (朱立倫) was vague yesterday on whether the party's charter would be amended so that Wang could remain legislative speaker.
Hung said on Thursday that the party's charter would not be revised and that if Wang wanted to stay on as legislative speaker (and therefore a legislator) he could only do so by running in the legislative elections, as the charter stipulates that legislators-at-large can only be re-elected once.
"We should respect the speaker's [decision]; the KMT's nominations will be made in accordance with the set regulations," Chu said.
Comments will be moderated. Keep comments relevant to the article. Remarks containing abusive and obscene language, personal attacks of any kind or promotion will be removed and the user banned. Final decision will be at the discretion of the Taipei Times.