Counseling center for sex abuse survivors planned
HELPING, HEALING: Minors face a greater risk of sexual assault in Taiwan, and family members need tools to help them cope, the Garden of Hope Foundation said
The Garden of Hope Foundation yesterday launched a fund-raiser to boost awareness of sexual abuse and provide better care for survivors and their families.
The Flying Dandelion Project aims to raise NT$15 million (US$479,831) to build a counseling office for people who have experienced sexual abuse and their relatives, the foundation said.
The foundation decided to extend its service to family members of victims because they are often at a loss as to how to help, creating situations that can be emotionally and physically draining, director Wang Shu-fen (王淑芬) said.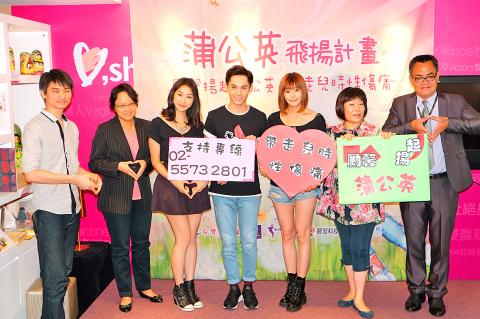 Garden of Hope Foundation representatives yesterday hold a news conference in New Taipei City's Xindian District to announce the "Flying Dandelion Project."
Photo: Chen Ping-hung, Taipei Times
She said group therapy should be provided alongside individual counseling.
Through the support of group therapy sessions, people who have experienced sexual abuse are more likely to overcome their trauma, Wang said.
Some might become advocates against the atrocity, Wang added.
For children who have been assaulted, games and a method known as sandplay therapy are crucial, she said.
Citing a survey published last year by the Ministry of Health and Welfare, Wang said that 11,086 people were sexually abused last year, of whom 7,044 — 63.5 percent — were under the age of 18.
The survey found that 5,933 were aged from 12 to 18 and 1,111 were under 12, showing that minors face a greater risk of sexual assault, she said.
Since people who have been assaulted often feel reluctant to speak up, the number of victims is likely to be much higher, Wang said.
The reluctance is seen the most in children and teens, with many afraid to seek help until they are in junior-high school, Wang said.
She said that boys are only slightly less vulnerable to assaults than girls, accounting for more than 20 percent of abused minors.
Fathers are the most likely to commit sexual assault, followed by the partners of mothers or other relatives with more than 50 percent of victims saying that they had been abused for more than two years, Wang said.
Some victims said that they had been sexually abused since kindergarten, she added, saying that most were raised by single parents and received little attention.
Comments will be moderated. Keep comments relevant to the article. Remarks containing abusive and obscene language, personal attacks of any kind or promotion will be removed and the user banned. Final decision will be at the discretion of the Taipei Times.