AIT's Moy reaffirms US' stance
'DREAM ASSIGNMENT': The new director of the American Institute in Taiwan said that Americans are fans of Taiwan, and he was looking forward to working here
Newly appointed American Institute in Taiwan (AIT) Director Kin Moy yesterday reiterated the US' stance that it does not take a position on any of Taiwan's candidates for next year's elections and looks forward to working with whomever Taiwanese choose as their new leaders in the Presidential Office and Legislative Yuan.
In a meeting with reporters, Moy said the US is proud of what Taiwan has accomplished and the role the US has played in its success.
"The relationship has never been better," he said.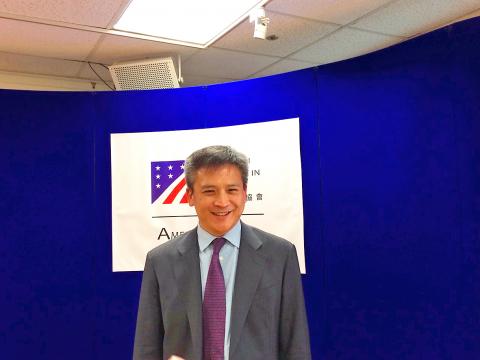 American Institute in Taiwan Director Kin Moy yesterday speaks with journalists in Taipei.
Photo: Chen Yu-hsuan, Taipei Times
"The strong bilateral relations and solid mutual trust that now exist between us have helped facilitate recent visits by senior officials and political leaders from our two sides," he said.
Moy said the US had "constructive" exchanges with Democratic Progressive Party Chairperson and presidential nominee Tsai Ing-wen (蔡英文) during her recent visit to the US, and "we also welcome other candidates to visit should they wish to do so."
Without characterizing Tsai's private meetings with US officials during her trip, Moy said that the importance of Tsai's visit was that she had an opportunity to speak to a good cross-section of Americans.
If Deputy Legislative Speaker Hung Hsiu-chu (洪秀柱), the Chinese Nationalist Party's (KMT) presumptive presidential hopeful, expressed an interest in visiting the US, Washington would welcome her to share her views with a broad spectrum of Americans, Moy said.
Hung would be accorded the same level of courtesy as Tsai was, Moy said.
Moy described his new job as a "dream assignment" and said he wanted to tell Taiwanese that Americans are "big fans" and "great friends" of Taiwan.
Moy, who spent some time in Taipei in 1995, said he was happy to return after working in Washington on issues related to Taiwan-US ties and especially since his wife, Kathy Chen (陳舲舲), has strong contacts here.
"It was a dream realized," Moy said. "There is such a strong sense of civil society here and the thriving economy that people on Taiwan have built is really something that we admire in the US."
Moy is the first AIT director whose most recent position was US deputy assistant secretary of the Department of State's Bureau of East Asian and Pacific Affairs since Lynn Pascoe — who served as principle deputy assistant secretary — was assigned to the Taipei post in 1993, the Ministry of Foreign Affairs said.
The appointment of Moy, who has extensive experience working in and on the Asia-Pacific region, has been interpreted by some local commentators as a reflection of greater attention the US has attached to the role of Taiwan in its engagement in the region.
Moy said that he has never been told that there is one specific reason he was assigned to the post, but he hopes that the decision was made because he has the experience to lead a "mission of importance in Asia" and to improve the relationship between the two nations.
Comments will be moderated. Keep comments relevant to the article. Remarks containing abusive and obscene language, personal attacks of any kind or promotion will be removed and the user banned. Final decision will be at the discretion of the Taipei Times.