Labor activists confront Ko over S Korean arrest
Independent Taipei Mayor Ko Wen-je (柯文哲) was yesterday greeted by protesters as he entered a city council meeting, following the arrest of the last of nine South Korean labor activists that morning.
About 50 protesters pushed against a cordon of police officers outside the council venue after Ko accepted their petitions, shouting slogans accusing the city government of acting as a "shield" and "thug" for corporations.
While Ko was quickly hustled into the building, some members of his entourage were temporarily trapped between protesters and police, with protester chants echoing through the council's entrance hall during a pre-scheduled city press conference.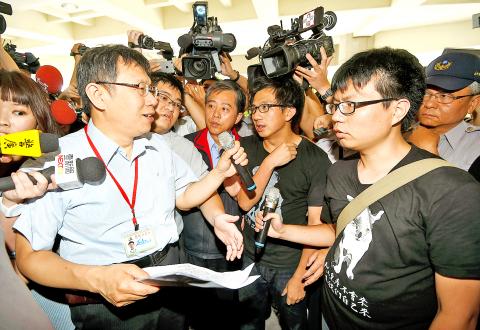 Supporters of laid-off workers of South Korean Hydis Technologies yesterday hand a petition calling for the release of the workers from a detention center to Taipei Mayor Ko Wen-je, left, as he attends a city council meeting in Taipei.
Photo: Fang Pin-chao, Taipei Times
In response to protester demands that charges against South Korean labor activist Lee Sang-aun be dropped, Ko said that he had not made the decision to detain Lee.
Lee was detained after attempting to enter a shareholders' meeting of the Yuen Foong Yu (YFY) Group, whose subsidiary E-Ink Holdings owns the South Korea-based Hydis Technologies Co Ltd — a plasma display manufacturer.
E-Ink's decision to close the Hydis factory in Icheon earlier this year led to the laying off of hundreds of workers, with several waves of South Korean labor activists traveling to Taiwan to stage protests with the help of local labor activists.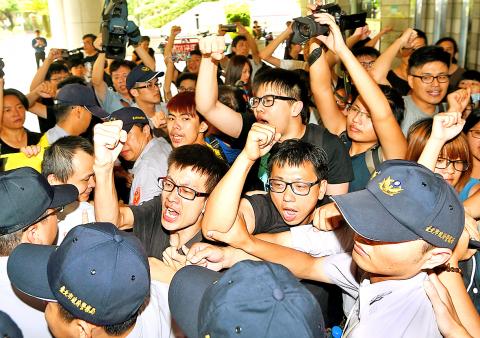 Supporters of laid-off South Korean workers of Hydis Technologies clash with police after handing a petition to Taipei Mayor Ko Wen-je outside the Taipei City Council yesterday.
Photo: Fang Pin-chao, Taipei Times
After Lee's detention, activists protested first outside Taipei City Hall before moving to the city council chambers to wait for Ko's entrance.
Labor activist Lu Chih-hung (盧其宏) called on city police to immediately drop the charges against Lee, saying that he had held a letter of attorney entitling him to represent a stockholder in the corporation and present worker demands to the company's management.
"What the police were preventing was a worker presenting his views to his boss," he said, accusing the police of acting as "private guards" for the corporation.
Levying charges against Lee following shoving between activists and police at the shareholders' meeting was "disproportionate," he said.
Lu added that the Social Order Maintenance Act (社會秩序維護法) cited by police was normally used only in the event of residential disturbances and did not warrant the mass of police officers that confronted activists.
About 50 police officers stood in rows opposite the protesters outside the council chambers entrance.
Protesters also condemned a similar earlier arrest of eight South Korean Hydis labor representatives.
Lee is the last remaining South Korean representative, following their expulsion from Taiwan last week.
Comments will be moderated. Keep comments relevant to the article. Remarks containing abusive and obscene language, personal attacks of any kind or promotion will be removed and the user banned. Final decision will be at the discretion of the Taipei Times.