INTERVIEW: Student pans 'black box' curriculum changes
As high-school students across the nation rally against the Ministry of Education's adjustments to high-school curriculum guidelines, Liberty Times (the Taipei Times' sister newspaper) staff reporter Jennifer Huang interviewed Ho Wei-tzu, who heads the student council at a school at the forefront of the recent protests — Taipei Municipal Jianguo High School
Liberty Times (LT): How are students at your school — regarded as an elite institution, both in terms of the academic performances of students and their subsequent dominance at the nation's most prestigious universities — involved in the debate over the government's adjustments to the high-school curriculum? What issues are you concerned with and to what extent are you working with protesters from other schools?
Ho Wei-tzu (何蔚慈): I was not actively involved in the Sunflower movement last year, but remained on the sidelines, as our students did not have a unified position on the cross-strait trade in services agreement, which requires an understanding of economics and Taiwan-China ties.
However, the "black-box" changes to the curriculum are set to impact all high-school students personally.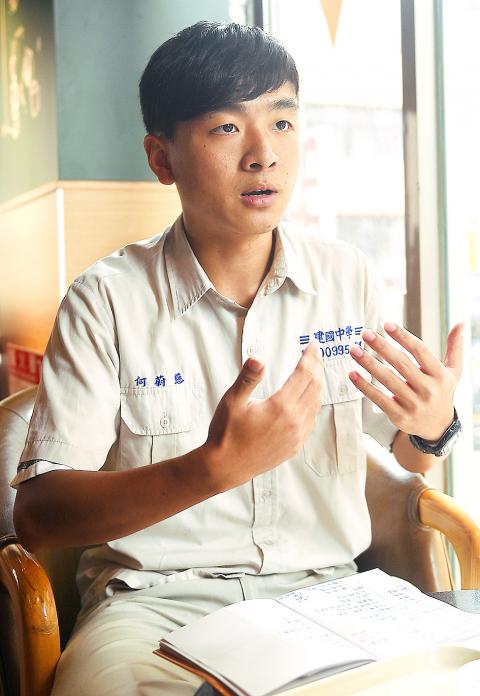 Taipei Municipal Jianguo High School student Ho Wei-tzu speaks in an interview in Taipei on Wednesday last week about the Ministry of Education's curriculum adjustment.
Photo: Chen Chih-chu, Taipei Times
The most unacceptable thing to most high-school students is the manner in which the adjustments to the curriculum where made; the process was manipulated by a small number of academics without professional expertise, and there was no consultation with high-school teachers.
The adjustments were made to indoctrinate students with nationalist dogma and a China-centric view of history, and it seems that high-school students and schools are being forced to take sides over issues as significant as independence or unification with China — which is unreasonable.
Some adjustments — such as the reduction in the syllabus of Taiwanese literature and its replacement with classical Chinese literature, the increase in weight given to Chinese history, the removal of multiculturalism and the accent on Chinese culture are an unnecessary burden on students that has little connection with their daily lives.
Although classical Chinese literature is important, its representation on the new curriculum is disproportionate, as classical Chinese is no longer used in everyday life.
The new China-centric history curriculum is an oversimplification of the nation's history, which leaves out the influence of the Japanese colonial period and earlier histories, which does Taiwanese students a disservice.
The government has foisted this biased curriculum on students via an opaque procedure.
The student groups protest the way the government brought about these changes vehemently, and demand the curricula adjustments be revoked.
Future curricula must be formed in accordance with the principles of pluralism, and consistency, and the curriculum development process must be open, transparent and independent.
The curriculum committee should be an independent and autonomous agency so as to avoid the interference of political parties and prejudices.
LT: Have students at your school faced obstructions to staging anti-curriculum protests?
Ho: We have studied civic education for years, and this campaign is an opportunity to experience and practice what we have learned in class.
Despite the outcome, the campaign gave high-school students a chance to exercise their citizenship and learn how to protect their own basic right to an education free of political manipulation.
This campaign is a test of academic freedom in high schools, as well as an examination of what teachers mean when they talk of education.
The inter-school campaign allowed me to see how open the academic body of National Taichung First Senior High School was toward student participation in public issues.
Students at that school did not have to campaign behind closed doors, and they held a public forum on the campus to allow students to openly express themselves.
The Taichung high school principal even supported students discussing the public affairs that they had learned in class.
This was why the National Taichung First Senior High School student association fired the first shot in the anti-curriculum campaign by organizing a protest by students at the school's 100th anniversary ceremony last month.
However, teachers and officials at most high schools, even those at our school, still have a relatively conservative attitude, selecting textbooks according to convention and believing that the most important thing for students is to learn by rote.
The ministry ordered high schools to "maintain safety and stability on campus." Our school respects the students' right to debates on the curriculum, but has misgivings about these being made public in media reports.
Students in the anti-curriculum campaign are often challenged by those with a conservative mindset, and students must fight to ensure their demands are heard.
Students have to express their points of view articulately in order to win the respect of their teachers and other adults in authority.
I believe that the campaign will bring about changes at high schools.
Such black-box decisions cannot remain hidden in the Internet era; adults in power — of any political affiliation — should not assume that high-school students can be easily controlled or are prepared to accept without question what they are taught.
Translated by staff writer Chen Wei-han
Comments will be moderated. Keep comments relevant to the article. Remarks containing abusive and obscene language, personal attacks of any kind or promotion will be removed and the user banned. Final decision will be at the discretion of the Taipei Times.