Civic groups slam 'illegal' enactment of curriculum
A group of civic organizations yesterday petitioned the Control Yuan to impeach Minister of Education Wu Se-hwa (吳思華) over what they said was the illegal implementation of a set of controversial adjustments to high-school curriculum guidelines made by the Ministry of Education.
The National Academy for Education president Ko Hwa-wei (柯華葳) was also listed on the petition, because the academy went outside of its jurisdiction by issuing official documents to textbook publishers to prohibit sales of textbooks based on the old curriculum — an act not authorized by any law, lawyer Huang Di-ying (黃帝穎) said.
Other petitioners included Northern Taiwan Society chairman Chang Yeh-sen (張葉森), Restoration of Taiwan Social Justice founder Lin Yu-lun (林于倫), Humanist Education Foundation executive director Joanna Feng (馮喬蘭) and Taiwan Association of University Professors chairman Peter Chang (張信堂).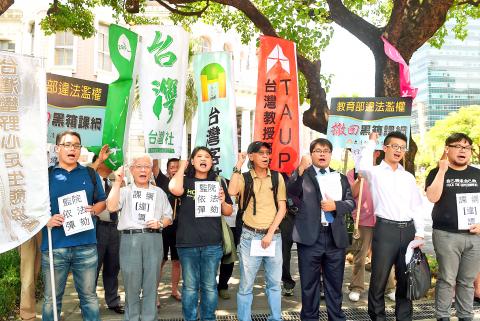 Teachers and Taiwan Forever Association members yesterday hold a press conference outside the Control Yuan in Taipei to demonstrate against what they say is the Ministry of Education's abuse of power and call for the impeachment of Minister of Education Wu Se-hwa.
Photo: Chien Jung-fong, Taipei Times
Huang said that the ministry's curriculum committee was not legally authorized, nor could it produce any audio recording that could prove that the motion to modify high-school curriculum was put to a vote, making the whole curriculum adjustment process illegal.
The adjusted curriculum is inappropriate in content, as experts from various disciplines, including history and civic education, have raised doubt about the adjustments, he said.
The curriculum should be revoked according to the Administrative Procedure Act (行政程序法), which stipulates that an administrative act should be revoked where there is significant and obvious flaw, Huang said.
The ministry should have abolished the illegal curriculum if it aimed to abide by the law, but Wu himself violated the law by refusing to revoke the curriculum and insisting on implementing the new curriculum along with the old one, which was why they petitioned for Wu's impeachment, Huang said.
Peter Chang said that the ministry's 10-person committee was operating illegally, while Wu violated the law and abused his power by planning to implement the curriculum even after the Taipei High Administrative Court ruled against the ministry in its curriculum adjustment process in February.
Chang Yeh-sen said that the ministry's actions have provoked widespread protests among high-school students.
Lin called on Wu to act in good conscience, saying that the ministry is "taking the lead to cheat" in curriculum adjustments, while high-school students are exposing the ministry's wrongdoings.
Comments will be moderated. Keep comments relevant to the article. Remarks containing abusive and obscene language, personal attacks of any kind or promotion will be removed and the user banned. Final decision will be at the discretion of the Taipei Times.