Paralyzed teen to attend junior-high graduation
DOWN BUT NOT OUT: Tsai Pin-chieh has learned how to use an eye-tracking keyboard and SNP device to use a computer and now creates videos and Web sites
"Being immobilized is not the same as being dead," Tsai Pin-chieh (蔡品捷) said on Saturday, discussing his plans to return to Hualien County's Sincheng Junior High School on Tuesday next week to attend its graduation ceremony.
The 15-year-old was forced to give up normal school activities after he was left a quadriplegic by an accident last year.
Tsai, who is from Kangle Village (康樂) in Sincheng Township (新城), was injured after diving into the Sanchan River (三棧溪).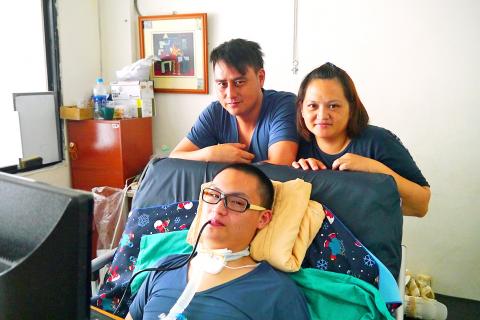 Tsai Pin-chieh's parents on Saturday stand behind him as he uses a sip-and-puff input device to operate his computer at their home in Hualien County.
Photo: Wang Chun-chi, Taipei Times
Since his accident, Tsai said he has been confined to a bed and his teachers have taken turns visiting him and helping him with his lessons.
His family is not well off, and his parents have spent a lot of money trying to improve Tsai's condition. His father, Tsai Chih-hao (蔡志豪), quit his job to become his son's full-time caregiver, while his three younger brothers have also sacrificed some of their time to help take care of him.
Tsai Pin-chieh said that he wanted to pursue a career in information technology to help his family financially and to set a good example as the eldest son.
He has worked to learn how to use an eye-tracking computer keyboard and a sip-and-puff (SNP) input device that allows him to operate a computer in place of a mouse. He has also learned how to make videos, restore images and create simple Web sites.
He spent two months editing a five-minute video presentation of his feelings and experiences over the past two years as part of his junior-high-school graduation activities.
"I hope that the video will give everyone who is concerned about me a pleasant surprise," Tsai Pin-chieh said.
He said he also hoped that the video would prove that despite his immobility, he is still "of use" to his family and society.
He said he has begun working on Internet projects to help supplement his family's income.
Tsai Chih-hao said he was glad that his eldest son has faced such a tragedy with courage and optimism, adding that though there were bound to be many difficulties in life, as long as the family stuck together, they would triumph over all obstacles.
His wife, Chen Li-li (陳麗莉), said she wanted to thank everyone who has helped her son and the family, adding that Tsai Pin-chieh's condition may one day improve. There has been a slight reaction in one of his palms and he could make small grabbing motions, she said.
"We believe his condition could improve with time, which has been a great encouragement to the entire family," Chen said.
Sincheng Junior High School head of consultation Lin Hsiu-ying (林秀英) said the school had designed a diverse course schedule to suit Tsai Pin-chieh's needs and interests and recently helped him complete his application to attend Siwei Senior High School.
"We hope Tsai Pin-chieh can fulfill his dreams of going to college and earning a degree," Lin said.
Comments will be moderated. Keep comments relevant to the article. Remarks containing abusive and obscene language, personal attacks of any kind or promotion will be removed and the user banned. Final decision will be at the discretion of the Taipei Times.