Ko eyes threat-monitoring system, campus security
Taipei plans to revise its system of keeping tabs on dangerous people, Taipei Mayor Ko Wen-je (柯文哲) said yesterday after the slaying of an eight-year-old student at an elementary school in the capital's Beitou District (北投) on Friday.
Ko said the case raised questions about whether the city's system should be expanded, given that it had not picked up murder suspect Kung Chung-an (龔重安) before the attack.
A review would be conducted once more was known about Kung's social network and mental state, Ko added.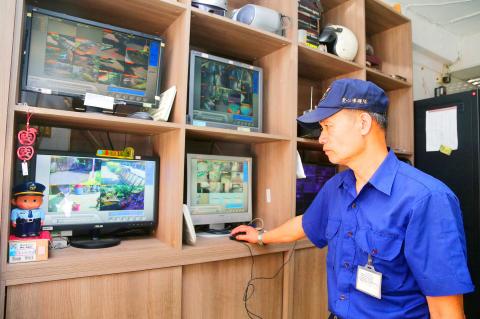 A campus police officer at Shilin Elementary School in Taipei checks the school's surveillance cameras as the school celebrates its 120th anniversary yesterday.
Photo: CNA
Problems revealed by the case focused more on prevention rather than the city's response, Ko said, adding that city officers deserved a grade of 99 percent for their efficiency in handling the case.
In addition to reviewing how potentially dangerous residents are monitored, Ko said that the city would also consider revising the "open campus" policy that provides public access to school grounds.
School fences might be heightened as well, he added.
Kung was reportedly able to gain access to Beitou's Wenhua Elementary School by hopping over a low barrier wall.
A rigorous registration system for entering campuses would be a better policy than completely blocking the entrance of strangers, Ko said, adding that a cost-benefit analysis would have to be conducted before the government would consider installing alarms in school restrooms, where Friday's incident occurred.
He said the city's first priority is to rebuild campus security to ensure that students feel safe attending classes.
After an emergency city meeting on Friday night, Taipei Police Commissioner Chiu Feng-kuang (邱豐光) promised to bolster safety, including conducting internal campus patrols on request.
Department of Education Commissioner Tang Chih-min (湯志民) said his department would review school security camera systems and entrance policies, as well as bolster internal patrols.
The city would also consider reintroducing officers to direct traffic near schools at the beginning and end of school days, Taipei Police Department Deputy Commissioner Chou Shou-sung (周壽松) said.
Comments will be moderated. Keep comments relevant to the article. Remarks containing abusive and obscene language, personal attacks of any kind or promotion will be removed and the user banned. Final decision will be at the discretion of the Taipei Times.