Hung says she has 68% of KMT supporters in poll
Deputy Legislative Speaker Hung Hsiu-chu (洪秀柱) yesterday released a survey showing that she has the backing of almost 68 percent of KMT supporters if she is the only potential Chinese Nationalist Party (KMT) candidate for the presidential election in January.
Hung released the survey yesterday afternoon, after complaining in the morning that it would be against KMT policy if a poll required as part of the party primary pits her against Democratic Progressive Party (DPP) Chairperson and presidential candidate Tsai Ing-wen (蔡英文), as party rules state that it should be a standalone survey to test a candidate's popularity.
She added that she would like her NT$7 million (US$227,265) back — the fee she paid to join the primary — "if party headquarters has no plans for me to hold policy presentations, so I can do it myself."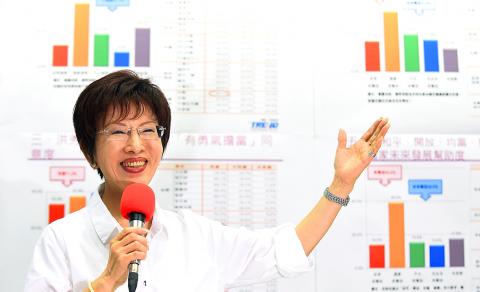 Deputy Legislative Speaker Hung Hsiu-chu releases the results of a survey at a press conference in Taipei yesterday afternoon.
Photo: Liu Hsin-de, Taipei Times
When asked about some party members' suggestion to have Legislative Speaker Wang Jin-pyng (王金平), Vice President Wu Den-yih (吳敦義) and KMT Chairman Eric Chu (朱立倫) listed alongside Hung as possible candidates in a poll, Hung asked: "Why did they not join the primary in the first place then?"
"It would be unfair. It is like after having taken so many examinations and you are in the final stage, suddenly a group of people appears and say they want to take the final exam as well," she said.
According to the poll Hung released yesterday, 51.9 percent considered "drafting whoever is favored by the party" — instead of selecting one through a primary — would taint the KMT's image.
It is understandable that some members have their own preferences before the party makes a final decision, but the poll shows that drafting a candidate might hurt the party and undermine the party's election campaign, Hung said.
The poll was commissioned by Hung and conducted by Trend Survey and Research Co. Of the 1,068 respondents, 33.5 percent supported Hung, 40.9 percent did not and 25.5 had no opinion. Among respondents who support the pan-blue camp, 55.2 percent said they support Hung.
When asked if the KMT fields Hung, with Wang, Wu and Chu opting to stay out of the race, 42.1 percent of respondents said Hung would be their choice.
Among pan-blue supporters, 67.8 percent said they would back her, the poll showed.
Hung said the poll has demonstrated that she has crossed the 30 percent support threshold required by the party's primary rules.
Addressing rumors that she would quit midway through the primary, Hung said: "This is an insult to my dignity," as that would imply she was aiming for something in exchange.
The survey had a margin of error of plus or minus 3 percent, with a confidence level of 95 percent.
Comments will be moderated. Keep comments relevant to the article. Remarks containing abusive and obscene language, personal attacks of any kind or promotion will be removed and the user banned. Final decision will be at the discretion of the Taipei Times.