Professors shave heads in protest
PUBLIC-PRIVATE DIVIDE: Protesters warned against an alleged difference in the treatment of public and private universities, as the government looks to cut expenditure
Dozens of university professors yesterday staged a sit-in outside the legislature throughout the day to protest against the pending Teachers Compensation Act (教師待遇條例), saying that the bill would slash wages for professors at private institutions by more than half.
The protesters said that Article 17 of the act would free private institutions from the obligation of providing monthly academic research fees to professors at the same level as professors at public universities.
They called the proposed bill the "29k Act," in reference to their reduced wages.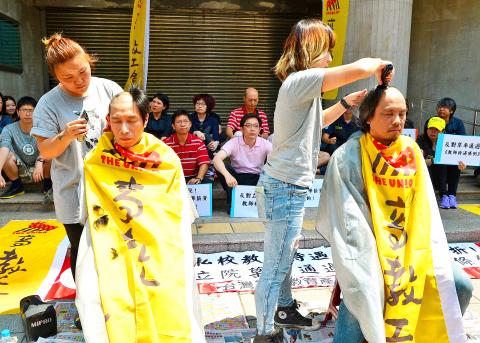 Fu Jen University professor Ho Tung-hung, right, and Shih Hsin University associate professor Chen Cheng-liang, left, yesterday have their heads shaved as part of a sit-in outside the Legislative Yuan in Taipei to protest against the pending Teachers Compensation Act.
Photo: Wang Yi-sung, Taipei Times
The act is set to go under its second review today.
Assistant professors typically start on a base salary of NT$29,345 and academic research fees of NT$39,555, for a combined monthly wage of NT$68,990.
In an expression of defiance against the proposed bill, two professors from the Taiwan Higher Education Union (THEU) had their heads shaved.
The two professors — THEU Secretary-General Chen Cheng-liang (陳政亮), who teaches at Shih Hsin University, and Fu Jen University professor Ho Tung-hung (何東洪) — said that working conditions at private institutions have deteriorated as declining population growth means fewer students, and schools are seeking new ways to reduce expenses.
The controversial clause, which originally stipulated wages and bonuses for public-school professors also apply to private institutions, had its wording slightly changed to say that regulations "might apply," Chen said.
He cautioned against a widening gap in resources between public and private institutions.
"If our legislature intends to support such an act, it would mean telling the general public that we intend to confer differential treatment for professors at public and private institutions," THEU vice president Lin Chia-ho (林佳和) said.
Ministry of Education official Chang Chiu-yuan (張秋遠) denied the union's allegations and said they were based on a misunderstanding of the proposed legislation.
He added that the act stipulates equal pay for professors at private and public institutions, with schools that violate the act facing fines of between NT$100,000 and NT$500,000 per case.
The protesters said they plan to continue their protests today.
Comments will be moderated. Keep comments relevant to the article. Remarks containing abusive and obscene language, personal attacks of any kind or promotion will be removed and the user banned. Final decision will be at the discretion of the Taipei Times.