Conservation efforts failing: Taoyuan officials
NOT MY WHEELHOUSE: Property owners must maintain and operate historical properties in accordance with the Cultural Heritage Preservation Act, an official said
Taoyuan city councilors accused the Taoyuan Department of Cultural Affairs of failing to appraise the practicality of conservation efforts at properties after their designation as conservation sites.
Two Japanese dormitories in the city's Jhongli District (中壢) — one near the Chung-Li Primary School and the other opposite Matsu Village (馬祖新村) — were listed as historical buildings in 2004 and 2011 respectively, but they have not been opened to the public due to lengthy renovations, Taoyuan City Councilor Lu Ming-che (魯明哲) said.
Lu urged the department to speed up its restoration work and open the sites.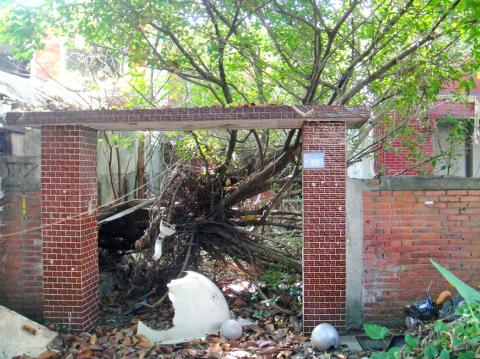 Tree branches block a gateway in a courtyard in Taiwu Village, a former military veterans' housing complex in Taoyuan's Dasi District, in an undated image.
Photo courtesy of Yang Chao-wei
Taiwu Village (太武新村), an old veterans' complex in Taoyuan's Dasi District (大溪), and the Japanese dormitory at Dasi Primary School are historical buildings, but the village has become an eyesore and a security blind spot, Taoyuan City Councilor Yang Chao-wei (楊朝偉) said.
Property owners must maintain and operate historical properties in accordance with the Cultural Heritage Preservation Act (文化資產保存法), Taoyuan Department of Cultural Affairs Deputy Commissioner Tian Wei (田瑋) said in response, adding that the department can only issue warnings or citations to owners who have allowed their properties to fall into disuse.
The department has delivered two warnings to the Ministry of National Defense, the owner of the village, with the ministry promising to clear the premises by early next month, after which the department would propose a revitilization plan for the village, Tian said.
Taoyuan City Councilor Yang Chao-wei points at a dilapidated building in Taiwu Village, a former military veterans' housing complex, in Taoyuan's Dasi District on Tuesday.
Photo: Lee Jung-ping, Taipei Times
It is not possible to convert historical buildings into city landscapes overnight, department division head Wei Shu-chen (魏淑真) said.
It requires from three to five years to revitalize a heritage site, taking account of standard procedures including research, planning and reconstruction, in addition to inviting tenders to operate an outsourced facility, Wei said.
The revitalization of Matsu Village is under way and the village is expected to open to the public by next month at the earliest, Wei said, adding that similar projects are going on at seven other historical buildings citywide, including family ancestral temples in the Bade (八德) and Sinwu (新屋) districts and a historical business establishment in Dasi.
Meanwhile, Taoyuan city councilors Fan Kang-hsiang (范綱祥) and Wan Mei-ling (萬美玲) said that a police dormitory complex constructed during the Japanese colonial era was listed as a historical site and was to be turned into an art salon in 2012, but nothing has come of the proposal since then.
Department Commissioner Chuang Mei-hsiu (莊秀美) said the police dormitory complex was included in a tender last month that failed, adding that the department would review and reopen the tender in the near future.
Comments will be moderated. Keep comments relevant to the article. Remarks containing abusive and obscene language, personal attacks of any kind or promotion will be removed and the user banned. Final decision will be at the discretion of the Taipei Times.