GPT supports social activist as legislative candidate
The Green Party Taiwan (GPT) yesterday announced its support for social activist Wang Pao-hsuan (王寶萱) as a legislative candidate for next year's legislative election.
The GPT said that it seeks to bolster its collaboration with its political allies by delineating what the party called "priority bills" regarding environmental protection and land appropriation.
Wang, 33, said she plans to run in Taoyuan City's Lujhu/Gueishan (蘆竹/龜山) constituency, and seeks to uphold "residential and land justice" if elected.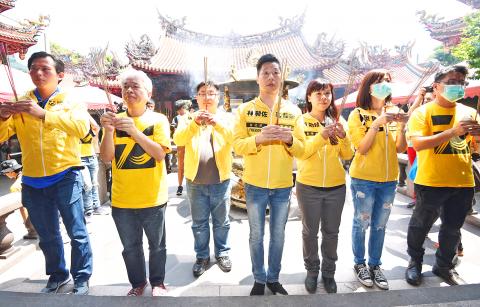 Prospective New Power Party legislative candidates hold incense sticks as they pray at Longshan Temple in Taipei's Wanhua District yesterday before going out on the streets to drum up support.
Photo: Lo Pei-der, Taipei Times
Land expropriation plans are often impractical and formed without comprehensive assessment of local industries, Wang said.
Referring to the Aerotropolis project in Taoyuan City, Wang criticized the project for proposing to establish a special zone dedicated to a hodgepodge of establishments — including hotels, theme parks and shopping malls, as well as farm plots, aeronautics and electronics firms — around Taiwan Taoyuan International Airport, saying the project lacks a plan to attract investment and has not taken existing industries into consideration.
Wang said that the government should not be pursuing impractical developments when current policies have been insufficient in taking care of ranch owners or farmers working in the area, and vowed to push forward legislation to improve the livelihoods of average Taiwanese.
She said that while campaigning, she met a herb farmer surnamed Huang (黃), who lives in Lujhu. He once refined essence oil, but was unable to market it due to government restrictions, she said.
Five years after Huang created the essence oil, a French company was granted permission to sell the exact same product in Taiwan.
"It proves that an industry that is widely viewed as having no added value can be completely reinvented with government support," she said.
Wang is best known for her active engagement in, and stance against, issues about controversial land expropriation projects, including the Aerotropolis project in Taoyuan City and the MRT A7 affordable housing complex project in Taoyuan's Gueishan Township (龜山).
Meanwhile, the GPT said that it would meet with the New Power Party and Social Democratic Party to identify common goals they hope to achieve for the legislative election, thereby boosting the influence of the "third force."
The trilateral talk is to focus on bills that the parties hope to pass, their core values and campaign strategies, GPT co-convener Lee Ken-cheng (李根政) said.
Instead of waiting for the government to introduce policies, which often lack clearly defined goals, the parties seek to tackle bills directly to expedite policy enforcement, Lee said.
So far, the three parties seem like-minded and the meeting is aimed at further testing the parties' cohesion, he said.
Comments will be moderated. Keep comments relevant to the article. Remarks containing abusive and obscene language, personal attacks of any kind or promotion will be removed and the user banned. Final decision will be at the discretion of the Taipei Times.