Chu delegation defying the law: DPP lawmakers
NEUTRALITY: The Mainland Affairs Council defended the six officials, as they were not traveling on public funds, but the minister of civil service said the trip was inappropriate
Opposition legislators yesterday said that the six government officials in Chinese Nationalist Party (KMT) Chairman Eric Chu's (朱立倫) delegation to China for this year's Shanghai Cross-Strait Economic and Cultural Forums are violating administrative neutrality.
At the legislature's Internal Administration Committee yesterday, Democratic Progressive Party (DPP) lawmakers said that the officials were incapable of distinguishing between party loyalty and their duty to the nation, accusing them of defying Article 8 of the Public Servants' Administrative Neutrality Act (公務人員行政中立法).
Article 8 stipulates that public servants must not use powers, opportunities or methods granted by their office to aid or benefit political parties or other political groups of political candidates, nor accede to their requests, accept bribes in any form or donate in their interests.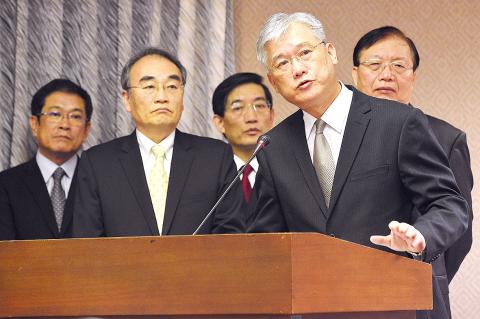 Mainland Affairs Council Minister Andrew Hsia, second right, speaks at a session of the Legislative Yuan's Internal Administration Committee in Taipei yesterday, accompanied by Minister of the Interior Chen Wei-zen, right, and National Security Bureau Deputy Director-General Wang Teh-lin, second left.
Photo: Chen Chih-chu, Taipei Times
Mainland Affairs Council Minister Andrew Hsia (夏立言) said at the committee meeting that the officials had not visited China using public funds because their travel was subsidized by the KMT think tank the National Policy Foundation.
In response to DPP Legislator Lee Chun-yi's (李俊俋) accusation that the six officials were violating the act, Minister of Civil Service Chang Che-shen (張哲琛) said that he agreed such acts were inappropriate.
Chang promised DPP Legislator Chen Ming-wen (陳明文) that should violations be proven, the officials would be held accountable by the Commission on the Disciplinary Sanctions of Functionaries.
Meanwhile, DPP Legislator Tuan Yi-kang (段宜康) alleged that the officials, despite traveling to China on leave, were tasked by their respective offices to carry out official talks, which contravenes the Ministry of the Interior's Permit Regulations Governing the Entry into the Mainland Area by Civil Servants and other Personnel with Special Identities in the Taiwan Area (公務員及特定身分人員進入大陸地區注意事項).
The regulations stipulate that entry into China on non-official matters prohibits civil servants from carrying out activities related to their offices.
However, National Immigration Agency Director-General Mo Tien-hu (莫天虎) said that civil servants above the 11th pay grade who are not privy to any classified information simply need the approval of their respective offices to bypass such restrictions.
The six officials include the Ministry of Economic Affairs' (MOEA) Small And Medium-Sized Enterprise Administration Director Yeh Yun-lung (葉雲龍), MOEA Intellectual Property Office Director-General Wang Mei-hua (王美花), Ministry of Education Youth Development Administration Director-General Lo Ching-shui (羅清水), Mainland Affairs Council Cultural and Educational Affairs Director Hua Shih-chieh (華士傑), Ministry of Culture Bureau Of Audiovisual and Music Industry Development Director Wang Chih-cheng (王志錚) and Council of Agriculture Agriculture and Food Agency Director Li Tsang-lang (李蒼郎).
Comments will be moderated. Keep comments relevant to the article. Remarks containing abusive and obscene language, personal attacks of any kind or promotion will be removed and the user banned. Final decision will be at the discretion of the Taipei Times.