Fund honors dedicated mothers — and one dad
ACROSS GENERATIONS: The Taiwan Fund for Children and Families' honorees included a grandmother who took in her three sons' children after cancer claimed the men
Ahead of Mother's Day, the Taiwan Fund for Children and Families honored 24 persevering mothers for what it called their exceptional dedication to and love for their families amid physical, economic and social hardship.
"I would like to express my gratitude to these mothers here today, whose perseverance is what keeps their families going without losing love or hope," foundation executive director Betty Ho (何素秋) said at an event in Taipei on Sunday.
Most of the honorees were single parents, or parents of children with physical or mental disabilities, while there were also foreign spouses and grandparents raising grandchildren, the foundation said.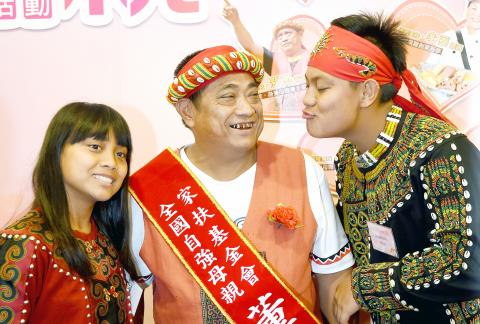 Tung Hsin-yung, center, poses with his children as he receives an award from the Taiwan Fund for Children and Families at an event in Taipei on Sunday to honor 24 outstanding parents nationwide. Tung is partially disabled due to an accident at work.
Photo: Liu Hsin-de, Taipei Times
Honoree Liang Chih-mei (梁枝梅) said she single-handedly raised her eight grandchildren after all of her three sons — raised by her alone after she divorced her husband in 1985 — contracted cancer and passed away.
Doubly beset by the deaths of her sons and the departure of her daughters-in-law, who were driven away by the family's poverty, Liang said she had no time for tears and had to pull herself together to feed the struggling household.
With debts increasing and money running short, the family could have collapsed had it not been for the perseverance of Liang, who had to wake up at 4am every day to sell breakfasts before working another two shifts at a restaurant while delivering chili sauce in between shifts, she said.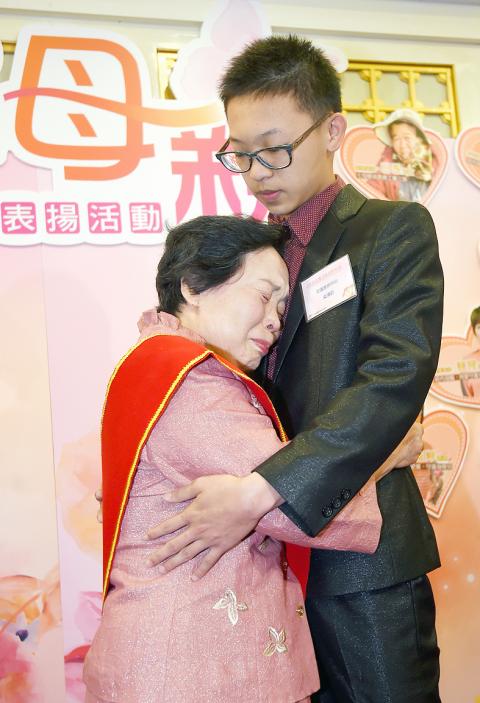 Liang Chih-mei, left, is in tears on Sunday as she receives an award from the Taiwan Fund for Children and Families at an event in Taipei.
Photo: Liu Hsin-de, Taipei Times
"The tragedies happened anyway. We should face the music and live well, because there is no point crying over spilled milk. We have to stay strong and work hard," she said, adding that she has taught her grandchildren to humble themselves and make peace with life.
Some of her grandchildren are old enough to be able to study away from home, but they have never failed to call her every day to express their love, she said.
They are also working part-time jobs to ease Liang's burden, which gratifies her, she said.
Single father Tung Hsin-yung (董新勇) from Kaohsiung was the only male honoree, and he accepted the honor wearing traditional Rukai clothing.
He said that he was devastated when his wife abandoned him and their two children, adding that he drowned his sorrows in alcohol until social workers from the city's Social Affairs Bureau relocated his young daughter.
Then he realized that he had to change, he said.
He enrolled in the bureau's alcohol abuse treatment and vocational training programs for Aborigines and worked hard to start a new career, he said.
Thriving under Tung's care, his son is a promising young athlete and his daughter is "a sweet girl who helps her father with farmwork," Tung said, adding that the family enjoys a harmonious relationship.
Paralyzed from the waist down in an accident years ago, Hung Su-chuan (洪素娟) said she took on the task of raising the three children of her brother, who has a mild intellectual disability and was unable to take care of the children by himself after his wife left.
"I do whatever I can do to the best [of my abilities]," she said.
Hung is like a mother to her nephew and niece, and they would write her cards to express their gratitude from time to time, she said.
Comments will be moderated. Keep comments relevant to the article. Remarks containing abusive and obscene language, personal attacks of any kind or promotion will be removed and the user banned. Final decision will be at the discretion of the Taipei Times.