KMT councilors to target Ko: whip
After 16 years of owing loyalty to Taipei City Hall, Chinese Nationalist Party (KMT) Taipei City councilors are "whetting their knives to take a stab" at Taipei Mayor Ko Wen-je (柯文哲), borrowing props and strategies from the Democratic Progressive Party (DPP), KMT caucus Secretary-General Chen Yung-te (陳永德) said yesterday.
Today, Ko is to deliver his first policy performance report to the city council, outlining his agenda for the coming year. Colorful opposition protests against the mayor's report are a long-standing city council tradition.
Following a KMT caucus meeting yesterday, Chen said that the party was close to finalizing its "script" for the session, which is to include what Chen described as a boycott to keep Ko from taking the podium, alongside criticism over issues, such as the Taichung MRT construction accident, the classification of city documents and the mayor's "imperial" governance style.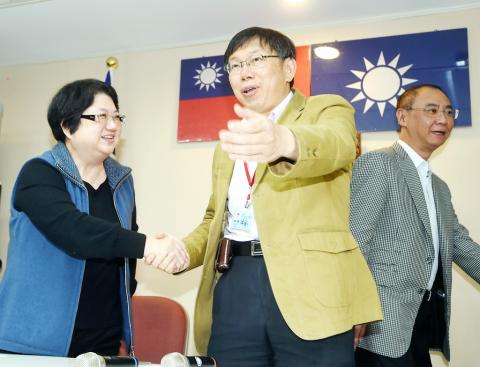 Taipei Mayor Ko Wen-je, center, shakes hands with Taipei City Council Speaker Wu Pi-chu of the Chinese Nationalist Party (KMT) at a meeting with the KMT city council party caucus in Taipei yesterday.
Photo: Fang Pin-chao, Taipei Times
He added that DPP councilors had agreed to lend the KMT props deployed against previous KMT mayors.
Taipei City Council Democratic Progressive Party (DPP) caucus whip Rosalia Wu (吳思瑤) said her party was "largely supportive" of Ko's policy agenda, with no plans for concerted criticism.
However, in keeping with the party's policy of "policy support" and "reasonable supervision," individual councilors would be free to criticize city policies, she said.
She added that if there were a "malicious" and "irrational" boycott of Ko, the DPP would consider helping him "break the siege."
"Because Ko has been in office for just a little more than three months, he is still like a small child," DPP Taipei City Councilor Wang Shih-chien (王世堅) said. "While slapping him a few times for doing something wrong is acceptable, one should not be too harsh, for fear that he 'dies young.'"
Meanwhile, the DPP said it made important progress at yesterday's committee membership allocations, taking control of four of the city council's committees.
After councilors register their committee preferences, committee membership is to be determined by drawing lots, with parties maneuvering to control different committees depending upon their legislative priorities.
Yesterday's drawing of lots left the DPP in clear control of committees for public works, education, civil affairs and finance, while the KMT controls the Police and Sanitation Committee and the Transportation Committee.
Wu said the DPP-controlled committees would be key to helping Ko push his legislative agenda.
The Public Works Committee was chosen because of Ko's affordable public housing agenda, while the Education Committee supervises the city's Department of Sports, which is in charge of important projects, such as the Taipei Dome project and Universiade Taipei 2017, she said.
Chen dismissed committee allotments as unimportant, because this council session will not review the city budget.
Control of four standing committees automatically gives the DPP four seats on the council's important Legislation Committee, through which all new city laws must pass. The KMT received two seats for the committees it controls, while three seats were appointed by Council Speaker Wu Pi-chu (吳碧珠) of the KMT.
Her appointment of two KMT councilors and one People First Party councilor ensures that the committee's composition mirrors that of the council itself, in which both the KMT and the DPP lack an absolute majority.
Currently, the DPP controls 27 city council seats against 28 for the KMT. Smaller parties and independent councilors hold the remaining eight seats.
Comments will be moderated. Keep comments relevant to the article. Remarks containing abusive and obscene language, personal attacks of any kind or promotion will be removed and the user banned. Final decision will be at the discretion of the Taipei Times.