FEATURE: Artisan keeps hands on tradition
STAMP OF QUALITY: Taipei-based stamp-maker Chiu Fang-yuan has designed more than 30,000 characters, including stamps for top business leaders and firms
After the computerization of Taiwan's stamp industry in the 1990s, few engravers could resist the efficient and low-cost engraving technology — save master craftsman Chiu Jen-fang (邱仁芳), who has insisted on designing and hand-carving scripts for three decades.
Born to a rural Yilan County family, Chiu said that his parents could barely maintain the family's livelihood and were unable to afford school for their children, adding that his elder brother, an accomplished stamp apprentice who could have supported the family, died just a week before his discharge from the army.
"I cannot forget the black bruises on my brother's back. However, no one dared to speak out in the Martial Law era," he said, adding that the army did not return the body and gave the family only NT$18,000 in compensation.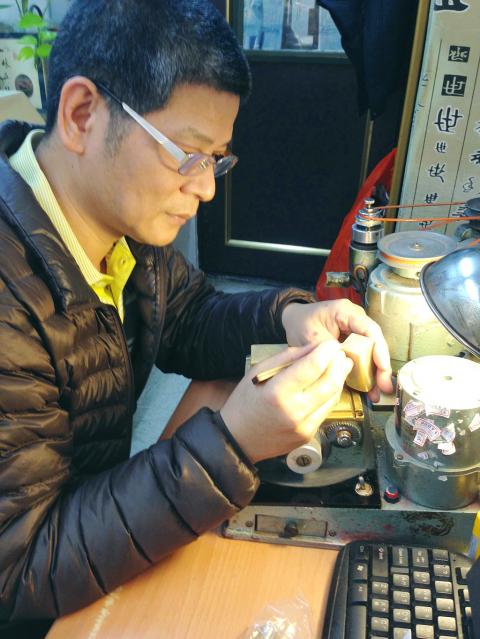 Master engraver Chiu Jen-fang carves a wooden stamp using traditional methods at his workshop in Taipei on March 27.
Photo: Hsiao Ting-fang, Taipei Times
Chiu said his mother dreamed of her deceased son a year later, who said he wanted Chiu to be apprenticed to a stamp artisan in Taipei.
Chiu said that his mother made a deal with a neighbor, trading her labor in the neighbor's field for Chiu's apprenticeship to the neighbor's son — a stamp-maker.
"Country children like us [at the time] could only depend on an apprenticeship for career avenues," Chiu said.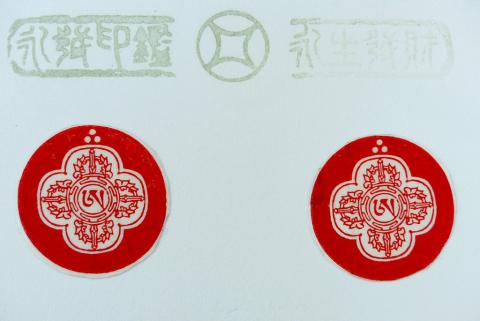 Two stamps, intricately carved in Tibetan script, are displayed by Chiu Jen-fang on Friday last week at his workshop in Taipei. Chiu says these stamps were particularly difficult to create, and that his first two attempts were unsuccessful.
Photo: Hsiao Ting-fang, Taipei Times
"I practiced woodcarving everyday and my fingers bled every day — but I did not rest," he said, adding that all he wanted was to complete the apprenticeship and start making money.
He started with sharpening knives — a fundamental stamp-making skill — before he learned how to hold a knife steadily and carve reversed characters and different scripts, he said.
Chiu said that shortly before he could complete the 40-month apprenticeship, his master immigrated to the US in 1978 as the US prepared to cut diplomatic ties with Taiwan, and he was forced to finish the apprenticeship early.
He opened a shop in Taipei after his discharge and worked more than 16 hours a day before the rise of computerized engraving, he said.
Many Japanese who patronized the hostess clubs in the neighborhood placed orders with him, and he had to visit those clubs to deliver the products, he said.
"I was a regular at all the clubs on Linsen N Road and I never spent a penny. Instead, I was making money there," he said.
He also came to understand a cultural difference between Taiwan and Japan in people's attitudes toward artisans, he said. Japanese customers treated him with respect, with some customers even giving him a bow in appreciation, he said.
He crafted stamps for former Taiwan High Speed Rail Corp (THSRC) chairwoman Nita Ing (殷琪), former Taipei deputy mayor Ou Chin-der (歐晉德) and THSRC chief executive officer Jeng Kuang-yeun (鄭光遠), he said, adding that the corporate stamp of Quanta Computer Inc is also his work.
"With amateurs overwhelming the industry and taking the lead, all I can do is ensure quality control," Chiu said, referring to his computer-aided carving rivals.
It takes an afternoon for an artisan to carve a wooden stamp by hand, but just three minutes for a computer engraving, and cheaper competition from computerized engraving has pushed out of business artisans who learned their skills under traditional experts, he said.
"However, computer-generated scripts are identical and monotonous, which is nothing like the artistic and vivid characters hand-carved by professional artisans, who still insist on the aesthetic value and creativity of handmade stamps," he added.
Chiu said that although he has purchased a computer engraver to keep up with the competition, he takes pride in having personally designed more than 30,000 characters that are stored in the computer's database.
That said, he lamented that the government has not emphasized the value of the nation's stamp-carving tradition and has not yet put forward any policy to assist the industry.
Comments will be moderated. Keep comments relevant to the article. Remarks containing abusive and obscene language, personal attacks of any kind or promotion will be removed and the user banned. Final decision will be at the discretion of the Taipei Times.