Conjoined twins given new lease on life after being successfully separated
Taiwanese doctors in Hualien on Friday successfully separated a pair of conjoined twin sisters who shared a liver.
Ludy de Gusman, mother of the 15-month-old twins, burst into tears of relief and gratitude when the operation finished after almost eight hours at the Buddhist Tzu Chi General Hospital's branch in the county.
Gusman said she was very grateful to the medical team for helping to give the sisters normal lives.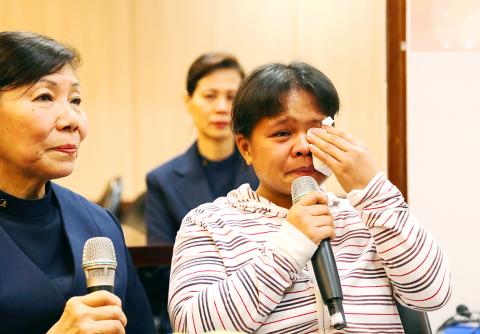 The mother of a pair of conjoined twins wipes away tears after her children were separated at the Buddhist Tzu Chi General Hospital in Hualien County on Friday.
Photo: CNA
Prior to the surgery, Gusman said, she had shut herself and her daughters off from the outside world and remained confined to their home for a year so that the people in her village in the Philippines would not laugh at them.
Lee Ming-che (李明哲), head of the hospital's department of surgery, commented on the length of the operation, saying that he and his team took extra care to reduce the amount of blood loss, as experience has shown them that surgery involving the liver causes the most-severe blood loss.
The twins — Jennelyn Mendoza de Gusman and Jerrelyn Mendoza de Gusman — were brought to Taiwan for the surgery after head of the Hualien hospital Kao Jui-ho (高瑞和) met them at a free clinic event in the Philippines' Bautista municipality in November last year.
Volunteers of the Hualien-based Buddhist Compassion Relief Tzu-Chi Foundation in the Philippines helped to raise funds for the operation and the twins arrived in Taiwan on Jan. 9 for preliminary care, which included tissue expansion for skin grafts and liver reconstruction.
Chen Peir-rong (陳培榕), the deputy head of the hospital, who organized the team that carried out the surgery, said the procedure was easier than previous operations on conjoined twins, as the liver was the only organ shared by the sisters.
Comments will be moderated. Keep comments relevant to the article. Remarks containing abusive and obscene language, personal attacks of any kind or promotion will be removed and the user banned. Final decision will be at the discretion of the Taipei Times.