Ex-warden defends his actions
Former Kaohsiung Prison warden Chen Shih-chih (陳世志) yesterday downplayed a Ministry of Justice report critical of his leadership during a jailbreak bid that turned into a siege at the prison last month, saying that the fact the incident did not lead to more inmate unrest was proof that his "management performance was not bad."
Chen made the remarks during his first question-and-answer session at the legislature in Taipei — a meeting of the Judiciary and Organic Laws and Statutes Committee yesterday morning, in which he softened his tone on a Ministry of Justice second review of the event.
Minister of Justice Luo Ying-shay (羅瑩雪) and Agency of Corrections Director Wu Shyan-chang (吳憲璋) had also been invited to the meeting to answer questions on the hostage drama.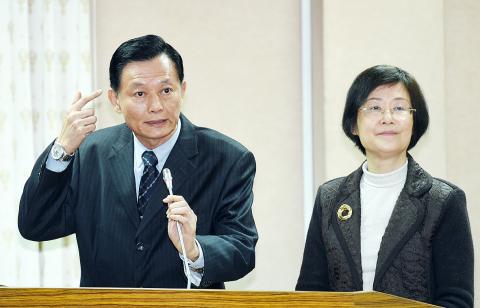 Former Kaohsiung Prison warden Chen Shih-chih, left, and Minister of Justice Luo Ying-shay attend a question-and-answer session at the Legislative Yuan in Taipei yesterday.
Photo: Lo Pei-der, Taipei Times
When asked by Democratic Progressive Party Legislator Tsai Chi-chang (蔡其昌) to express his anger about the second report in front of Luo, Chen said he did not shrug off criticism.
"When the majority thinks you are wrong, everything you say will be nothing but an excuse in their eyes," he said.
"I just want to do my job and let time prove everything. I will pick myself up from where I fell," Chen said.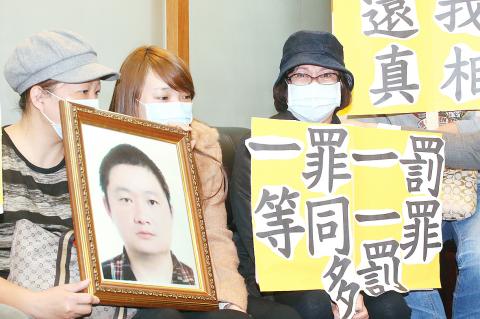 Relatives of one of the inmates who committed suicide during the Kaohsiung Prison hostage incident hold a press conference in Taipei yesterday.
Photo: CNA
However, when pressed further, Chen said that in terms of its description of his actions, the ministry's first report did seem more "humane and just."
The ministry has released two reports on the siege that began on Feb. 11 and ended before dawn on next day, in which six inmates held the warden and another prison official hostage before ending their 14-hour standoff by committing suicide.
The first report, published two days after the incident, described Chen as a courageous man who handled the crisis properly.
The second report, released on Feb. 26, criticized Chen as an incompetent leader and recommended demoting him to Agency of Corrections section head. It also rejected media reports hailing Chen as a hero for offering himself in exchange for the release of the staff members originally taken hostage.
Chen criticized the second report after its publication, saying that part of it was "removed from reality and unkind."
However, Chen yesterday said that he did not hold a grudge about his demotion, and that he had never said he offered himself in a swap for the other hostages.
He said that his ability to survive despite having multiple firearms aimed at him and managing to end the crisis without triggering a riot was evidence of his good management skills.
When reached for comments after the meeting, Luo said the two reports offered an objective analysis of the event, and that Chen's inefficient command of the prison was proven by his not learning of the jailbreak attempt until 30 minutes after it occurred.
"Nevertheless, Chen was able to remain calm in the face of heavily armed prisoners in the hours that ensued and that was not easy," Luo said.
Comments will be moderated. Keep comments relevant to the article. Remarks containing abusive and obscene language, personal attacks of any kind or promotion will be removed and the user banned. Final decision will be at the discretion of the Taipei Times.