Siraya people deserve official recognition: Lai
Tainan Mayor William Lai (賴清德) yesterday joined a group of Siraya Aborigine representatives who filed an administrative lawsuit demanding official recognition for the group at the Taipei High Administrative Court.
The move was the latest legal action by the Siraya to gain recognition among the nation's Aboriginal groups, after repeated rejections from the Executive Yuan and the Council of Indigenous Peoples over the past decade.
"Our government should not deny Siraya their identity. I hope this lawsuit can help restore their Aboriginal status," Lai said.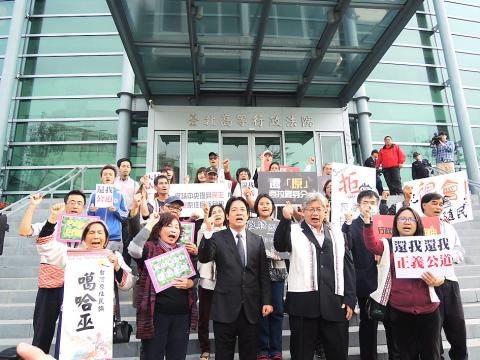 Tainan Mayor William Lai, center front, joins activists outside the Taipei High Administrative Court yesterday.
Photo: Hsiang Cheng-chen, Taipei Times
He also suggested that Democratic Progressive Party (DPP) Chairperson Tsai Ing-wen (蔡英文) and other presidential hopefuls include official Aboriginal recognition of the Siraya in their election platforms.
"The government's refusal to give them official recognition is a serious violation of the rights of the Siraya people. If this lawsuit is not successful, then we will consider pursuing a constitutional interpretation. Our government should not shut Siraya out of society," Lai said.
About 30 Siraya representatives from Tainan stood outside of the court to sing songs in their language, while holding signs saying: "Restore our Siraya Aboriginal status," "We demand fairness and justice," and "Stop denying our rights: We are not invisible people."
They were joined by activists from the Ketagalan, Kaxabu, Pazeh and other Pingpu Aboriginal groups who also lack official recognition.
Lai said that the Siraya have a distinct culture, language, and ritual worship traditions, and had been recognized as an Aboriginal people of Tainan County by then-Tainan County Commissioner Su Huan-chih (蘇煥智) in 2005.
However, despite advocacy by activists and struggles by Pingpu Aboriginal groups over past decade, the central government and the council continue to exclude them from the governmental system, refusing to recognize their Aboriginal status.
Siraya representatives led an administrative lawsuit seeking a judicial ruling on their official recognition in 2010, which — along with subsequent appeals to the Executive Yuan — was rejected.
"How can the government deny our identity as Aboriginal people? They are acting as though we have no right to exist, and they are trying to wipe out our Siraya culture and our ethnic group identity. This is also a very serious human rights issue," Tainan Siraya Culture Association director Wan Cheng-hsiung (萬正雄) said.
Siraya are among Taiwan's 10 Pingpu Aboriginal groups, also known as lowland plains Aborigines, who are the original Austronesian peoples of the island, but have been denied recognition by the government.
Their territory was in southern Taiwan, mainly in what is now Tainan, but Siraya are also found in Kaohsiung, Pingtung County and coastal villages in Taitung and Hualien counties.
Comments will be moderated. Keep comments relevant to the article. Remarks containing abusive and obscene language, personal attacks of any kind or promotion will be removed and the user banned. Final decision will be at the discretion of the Taipei Times.