S Korea workers in Taipei rally over factory closures
'EAT-AND-RUN': The activists said that Taiwan's E Ink Holdings decision to close two factories in S Korea was for profit and would lead to the loss of nearly 800 jobs
In a show of solidarity between Taiwanese labor unions and their counterparts in South Korea, scores of protesters yesterday held a rally in Taipei, calling on Taiwan's E Ink Holdings (EIH) to revoke its decision to shut down two factories owned by Hydis Technologies — an EIH subsidiary in South Korea.
Dressed in traditional Korean white robes, six representatives from the Hydis employees' union led a procession toward the Yeung Foong Yu (YFY Group) offices — of which EIH is an affiliate — while more than 150 Taiwanese workers and union activists followed behind.
In a gesture symbolizing anger and despair, the six representatives knelt down and touched their foreheads to the ground for every three steps they took, acting in unison to the beat of a gong.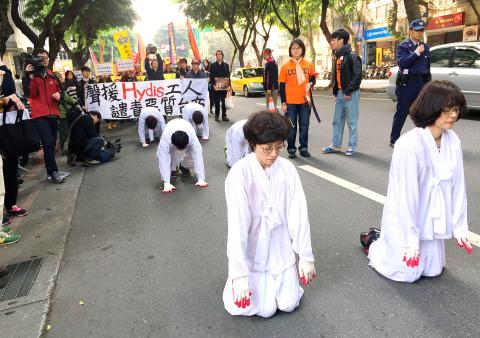 Workers from South Korea's Hydis Technologies yesterday protest outside the headquarters of Yuen Foong Yu Group in Taipei over the South Korean factory's closure.
Photo: CNA
The South Koreans said the shutdowns would cost nearly 800 workers their jobs — including more than 350 Hydis employees as well as workers from Hydis' client companies.
Founded in 2001 as a spinoff of troubled Hyundai Electronics, Hydis was acquired by China's BOE technology in 2003. The company later filed for court receivership in 2006 after BOE executives were accused of leaking technology to China.
Although YFY Group promised to maintain the company's operations in South Korea when it acquired Hydis in 2008, more than 600 employees have been laid off in the past few years, the activists said.
In a written statement issued by the Hydis employees' union, the South Korean activists accused EIH of following in the footsteps of their former Chinese parent company.
The union representatives described the recent shutdowns as an "eat-and-run scam," saying that EIH stopped investing in the South Korean production lines after it obtained Hydis' technologies in Fringe Field Switching (FFS) – a key technology in the LCD electronics industry.
They said that Hydis saw profits of more than NT$2.8 billion (US$88.89 million) last year, adding that it was against South Korean labor regulations for a profitable company to implement a mass layoff of its employees.
Former manager at Hydis' production section and union representative Koh Woo-jung said only 10 to 15 employees remained at their posts after the mass layoffs, most of them in postions related to the patented technologies.
"This is the first instance in South Korea in which owners of a company instigated a mass layoff of employees even though it was making profits," labor activist Eom Miya said through an interpreter. "We traveled across the seas to Taiwan because of our belief that there are no national boundaries when it comes to the protection of workers' rights."
Hydis employees' union leader Woo Boo-ki, who has more than 20 years of experience as a production line worker, said that severance packages were of no use to former employees, who are interested in retaining steady jobs.
Taiwan Association for Human Rights director Yen Szu-yu (顏思妤) said that EIH should follow through on its 2008 promises to allow Hydis to maintain ownership of the patents and manage the subsidiary adequately.
Several Taiwanese labor groups and unions voiced their support for the South Korean workers, including members of the Former Freeway Toll Collectors' Self-Help Organization, the Shin Hai Gas Corp Employees' Union and the the Taoyuan Confederation of Labor Unions.
In related news, laid-off freeway toll collectors and National Alliance for Workers of Closed Factories members yesterday protested over unresolved issues regarding the laid-off workers' severance package and compensation for labor pensions, calling the government a Nian (年獸) a mythical beast that is said to attack people over the Lunar New Year holiday.
The dispute with the laid-off toll collectors has entered its 14th month, encompassing the rout of the Chinese Nationalist Party's (KMT) in the nine-in-one elections in November last year and the replacements of the premier and the minister of transportation and communications, "but the government has still failed to offer any substantial solution to the dispute," the group said.
"We are calling on Premier Mao Chi-kuo (毛治國), who was the minister of transportation and communications when the toll booths were replaced by the eTag freeway system, run by the Far Eastern Group under a build, operate and transfer [BOT] model, to come out and face up to the predicament of laid-off toll collectors enduring their second Lunar New Year out of work without any of their problems resolved," organization member Kuo Kuan-chun (郭冠均) said.
The group set off firecrackers and burned a papermade Nian with photographs of the premier and the former and current ministers if transport and communications on it, claiming the act as symbolic of people driving away a government monster that formed by the exploitation of workers with contract-based employment and BOT contracts that hurt labor rights.
Comments will be moderated. Keep comments relevant to the article. Remarks containing abusive and obscene language, personal attacks of any kind or promotion will be removed and the user banned. Final decision will be at the discretion of the Taipei Times.