Marines conduct simulation of PLA attack in south
The Republic of China Marine Corps conducted a combat exercise in the Kaohsiung Harbor area yesterday, with the main objective being to train troops to defend against a simulated surprise attack on the southern port city by the Chinese People's Liberation Army (PLA).
The 99th Marine Brigade's Third Battalion, stationed at Kaohsiung's Zuoying Naval Base, took the lead role in the military exercises.
A live-fire drill simulated a PLA surprise attack and seizure of the harbor, where a 30-man unit hid in a Chinese cargo ship entering Kaohsiung port to dock.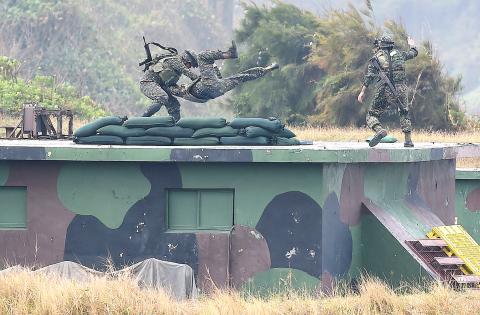 Marines yesterday simulate a surprise attack after landing at the Port of Kaohsiung as part of a military exercise in Greater Kaohsiung.
Photo: Liao Chen-hui, Taipei Times
The scenario had the simulated PLA military unit emerge from the ship to assault the dock and kill security staff, going on to seize the harbor's administrative buildings and other facilities.
The 99th Marine Brigade was supported by other armored infantry and amphibious fighting units as it went into action, with quick operations and engagement to overpower the enemy force, completing their mission to retake the facilities.
Amphibious assault vehicles and a locally developed anti-tank rocket system were also deployed in the drill.
A Marine Corps sniper squad also participated in the drills, deploying for the counterattack to retake the occupied buildings.
The snipers demonstrated their capabilities by hitting targets from a distance of about 250m, earning praise from naval officials in attendance.
Before every Lunar New Year, the military organizes media tours of some military units to showcase their preparedness to protect the country from potential attacks during the holiday season.
The army and air force held similar drills on Tuesday to demonstrate their combat readiness.
Comments will be moderated. Keep comments relevant to the article. Remarks containing abusive and obscene language, personal attacks of any kind or promotion will be removed and the user banned. Final decision will be at the discretion of the Taipei Times.