Hsinchu lawmaker withdraws from KMT
Chinese Nationalist Party (KMT) Legislator Hsu Hsin-ying (徐欣瑩), who represents an electoral district in Hsinchu County, on Tuesday night announced her withdrawal from the party, saying that Taiwan needs more than just the choices of "blue and green" — referring to colors representing the KMT and the Democratic Progressive Party (DPP) and their allies.
Hsu yesterday denied that her decision was influenced by the election of her brother, Hsu Shih-hsun (徐世勳), who ran as an independent for a Taipei city council seat last year. Before the election, Hsu Shih-hsun had received the backing of Taipei Mayor — then candidate — Ko Wen-je (柯文哲).
In a statement on Monday, Hsu Hsin-ying said she had joined the KMT to realize the promises she had made to the electorate, and her decision to leave the party "is no different, which is to do more of what people expect me to do and realize the pledges I have made to the public."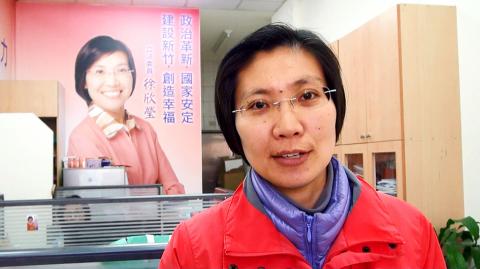 Chinese Nationalist Party (KMT) Legislator Hsu Hsin-ying of Hsinchu County poses for photographers in Hsinchu County yesterday.
Photo: Tsai Meng-shang, Taipei Times
She told the Chinese-language Liberty Times (the Taipei Times' sister paper) in Hsinchu on Tuesday that she wants to "keep a voice" in politics that differs from the two major parties' regular exchanges of barbs and vitriol.
She said the KMT is used to being the nation's biggest party and the DPP complacently views itself as the major voice of opposition, and she sees herself and other politicians with new ideas trapped within this dichotomy.
"Each time [the KMT caucus] called a 'highest level of mobilization' [which means a lawmaker's absence would be heavily punished by the party], I became stuck in the Legislative Yuan, unable to serve local interests," she said.
Hsu yesterday said in the Legislative Yuan that she has chosen to focus her efforts locally as there are still problems to be addressed concerning everyday life, such as running water, education and medical care, and that the political stalemate between the two main parties had thwarted any new path.
Asked whether she was not able to make changes within the party, Hsu said: "It has been three years," and Taiwanese politics has not progressed for the past 30 years.
It has been rumored that she would join a new political party formed by former People First Party legislator Chen Cheng-sheng (陳振盛).
Hsu refused to respond to the speculation directly and asked reporters to pose the question to the person spreading the information.
Hsu denied her resignation was connected to the KMT's rout in last year's elections or to fears over her candidacy at next year's legislative elections, as it had been said that other members of the KMT had been eyeing her constituency.
However, KMT caucus whip Lai Shyh-bao (賴士葆) said he suspected Hsu's withdrawal was a result of her concern about expected competition for her legislative seat.
It is unlikely that Hsu's decision would trigger a "party-quitting trend," as some have speculated, Lai said.
KMT Culture and Communications Committee Director Lin Yi-hua (林奕華) quoted KMT Chairman Eric Chu (朱立倫) as saying that "leaving the party, which is currently encountering difficulties, might not be the best way to go."
He added that Chu wanted Hsu to stay on and push for reforms within the party.
The KMT would continue its attempts to persuade Hsu to stay, as her application for the withdrawal "has not yet taken effect," Lin said.
With Hsu's withdrawal, the KMT would be left with 62 seats in the legislature, still a strong majority against the DPP's 37 seats, with seven belonging to small parties or having no party affiliation.
Comments will be moderated. Keep comments relevant to the article. Remarks containing abusive and obscene language, personal attacks of any kind or promotion will be removed and the user banned. Final decision will be at the discretion of the Taipei Times.